Qin Xu is a third year PhD student in the Department of Food, Agricultural and Resource Economics. Her research measures water use efficiency in Ontario agriculture using a land spatial agent-based model. In addition to being a full-time PhD student, Qin is also a proud mom of two daughters, Phoebe and Amy. View Qin's typical day by clicking through the arrows below.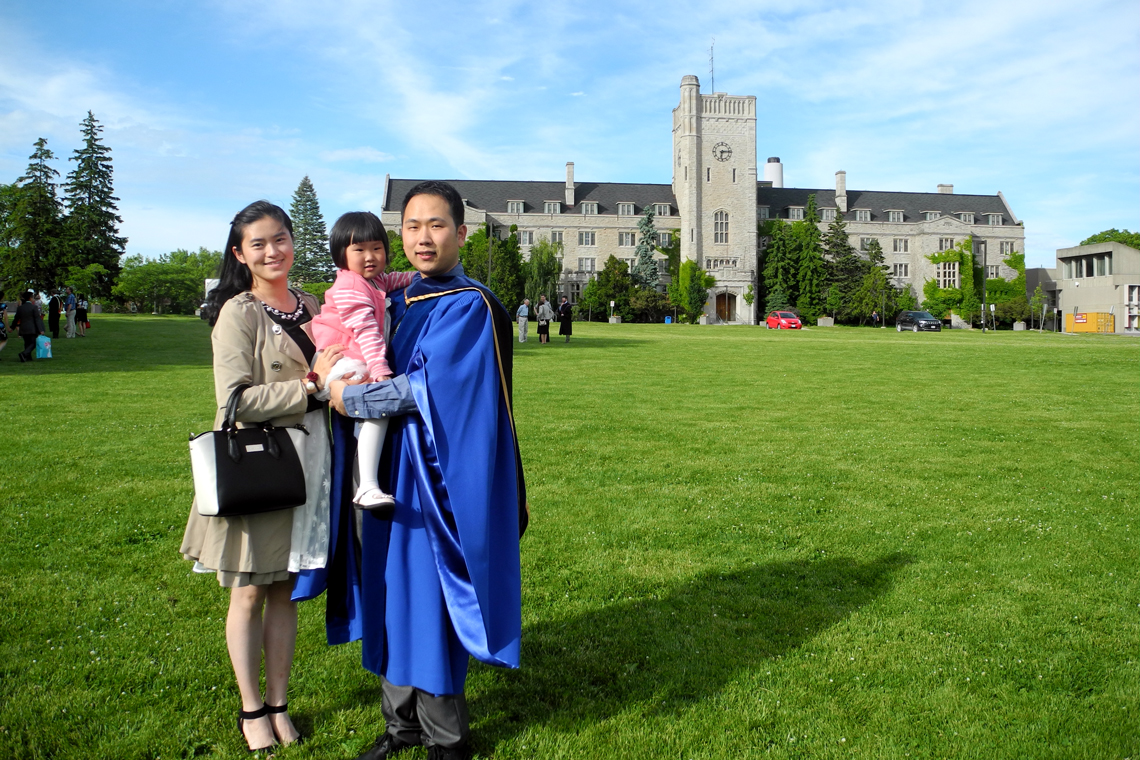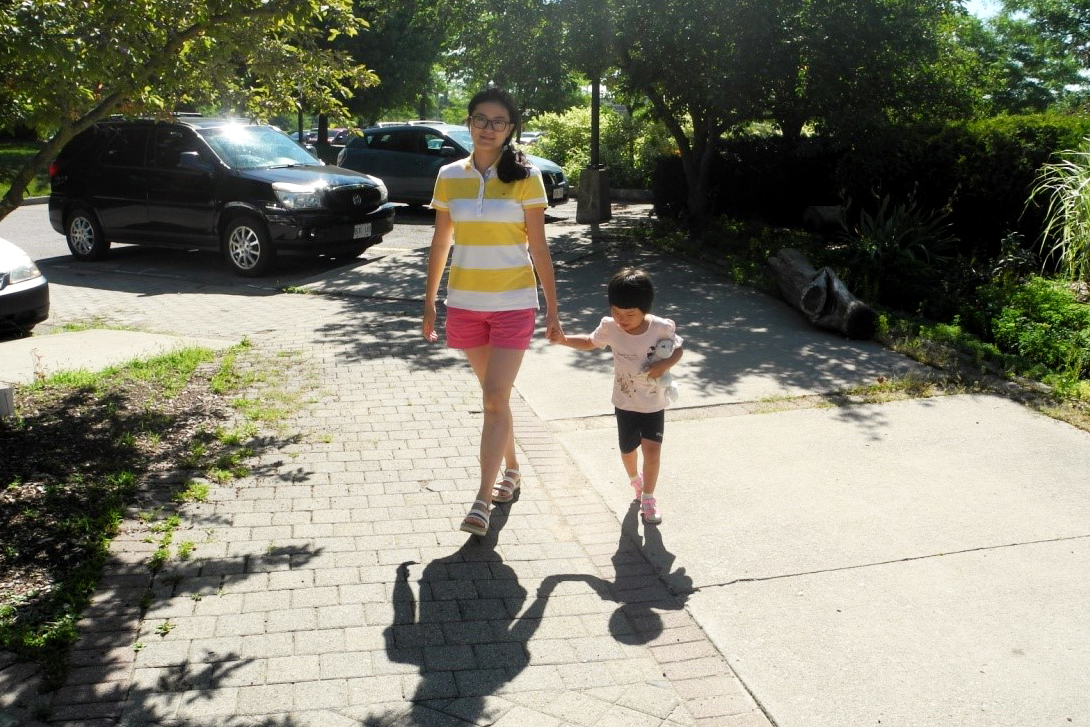 8:00 a.m.
In the morning, my first task is waking up my kids and preparing their breakfast. After breakfast, I drive to the university. Before I head to my office in the J.D. MacLachlan building, I send my eldest daughter to the Child Care Learning Center (CCLC) beside Alumni House. She always shows off her bright smile when she says goodbye to me, and then we both start our days.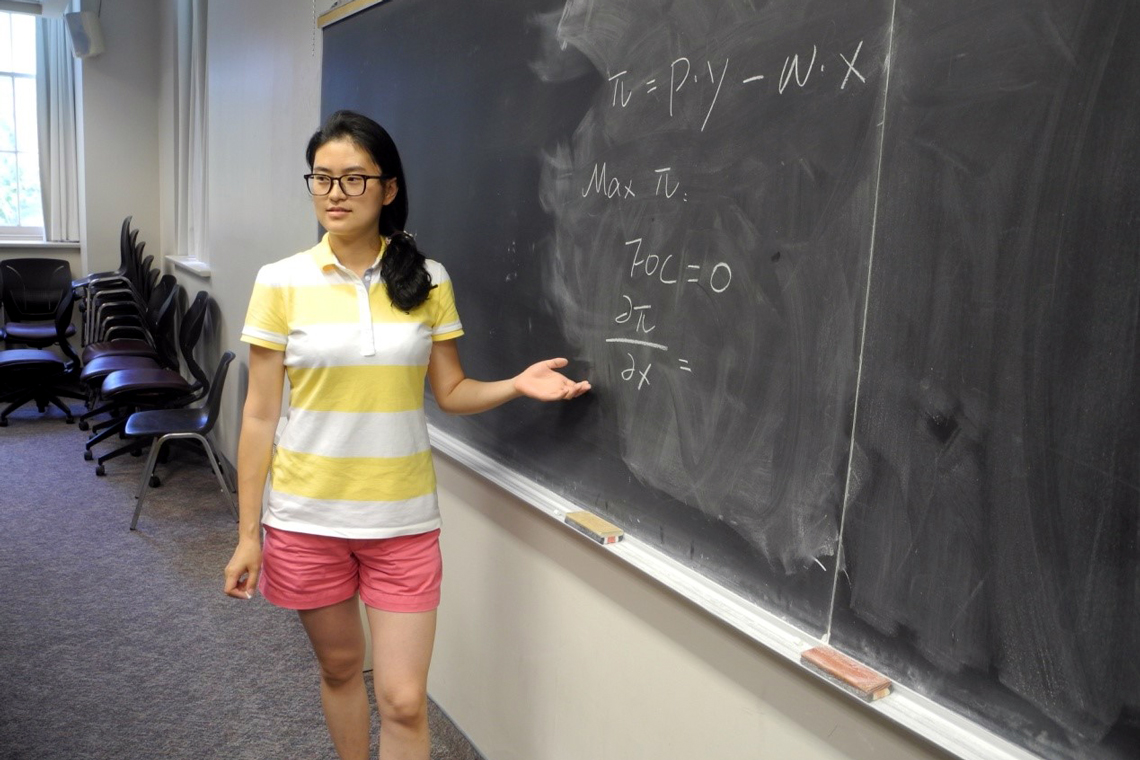 9:00 a.m.
In the 2016 winter semester, I was a teaching assistant for FARE 1040 - Introduction to Environmental Economics, Law and Policy. I spent my mornings in labs with students leading discussions about assigned reading materials. Other duties included holding presentations, grading reports and supervising exams. I always benefit from the experience of being a teaching assistant, as I learn new things from the students.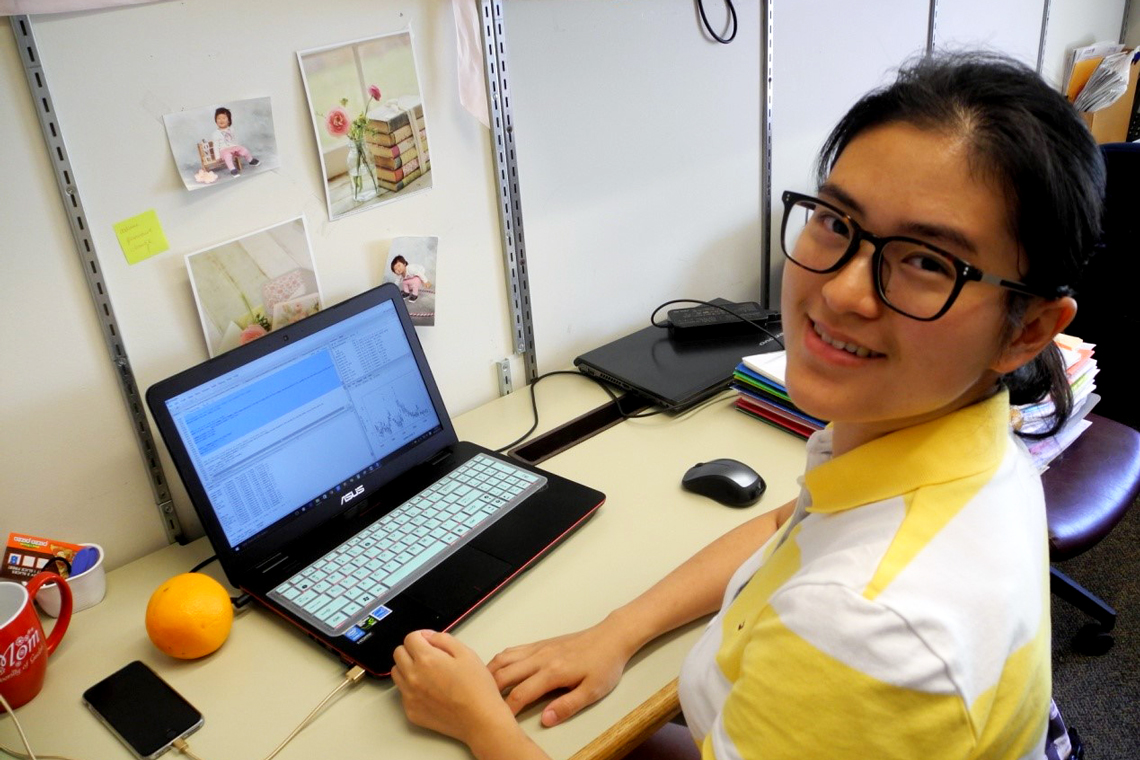 11:00 a.m.
My mornings continue in my office, which is where I spend most of my time. My project measures agricultural water use efficiency in Ontario. This project relies heavily on computer software. I am working to develop a land spatial agent-based simulation model using a software called Net Logo. This model will use a spatial map of Ontario to plot the farmers' water use behaviour by county. This will enable a simulation to compare economic water use efficiency under the alternative agricultural water policies. Before I can start the simulation, I am studying crop yield models for corn, soybeans, winter wheat and hay for 29 counties in Ontario. The estimated coefficients calculated in the crop yield models will be applied into the agent-based model I am developing. Knowing these coefficients is important to calculate the crop yields in a forecasted period and determine farmers' revenue in the water use efficiency agent-based model simulation.
1:00 p.m.
After lunch, I usually stay in my office to continue work on my project by searching literature, calling or emailing specialists, collecting and organizing data, running regressions and writing reports. However, sometimes I go to the library to collect data. The study time period for my project is from 1950 to 2013 and lots of the historical data is only available in paper version. After collecting data, I usually buy a drink to refresh myself.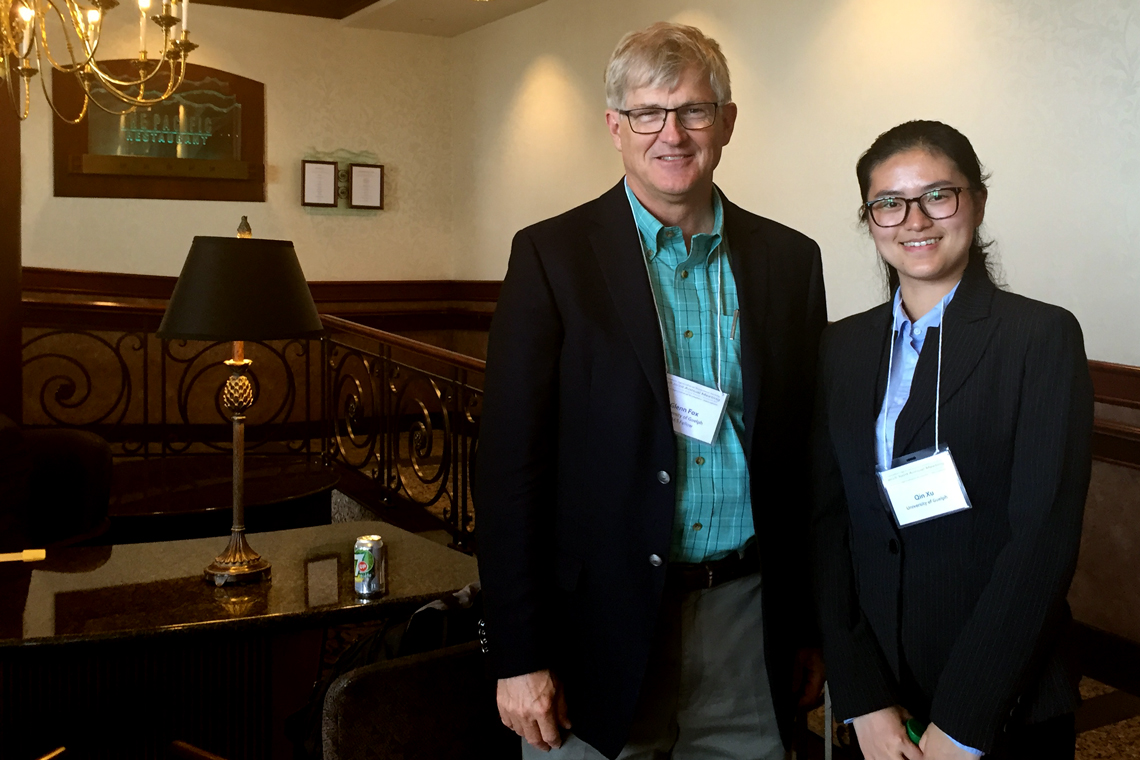 3:00 p.m.
Every Monday afternoon, I meet with my advisor Glenn Fox to report on my project progress, discuss some questions, and set next goals and tasks. At the beginning of each semester, I submit a list of milestones to Glenn that I aim to finish in the new semester. By doing it this way, I gradually achieve my objectives step-by-step and on-time. I plan to defend my PhD thesis in December 2017.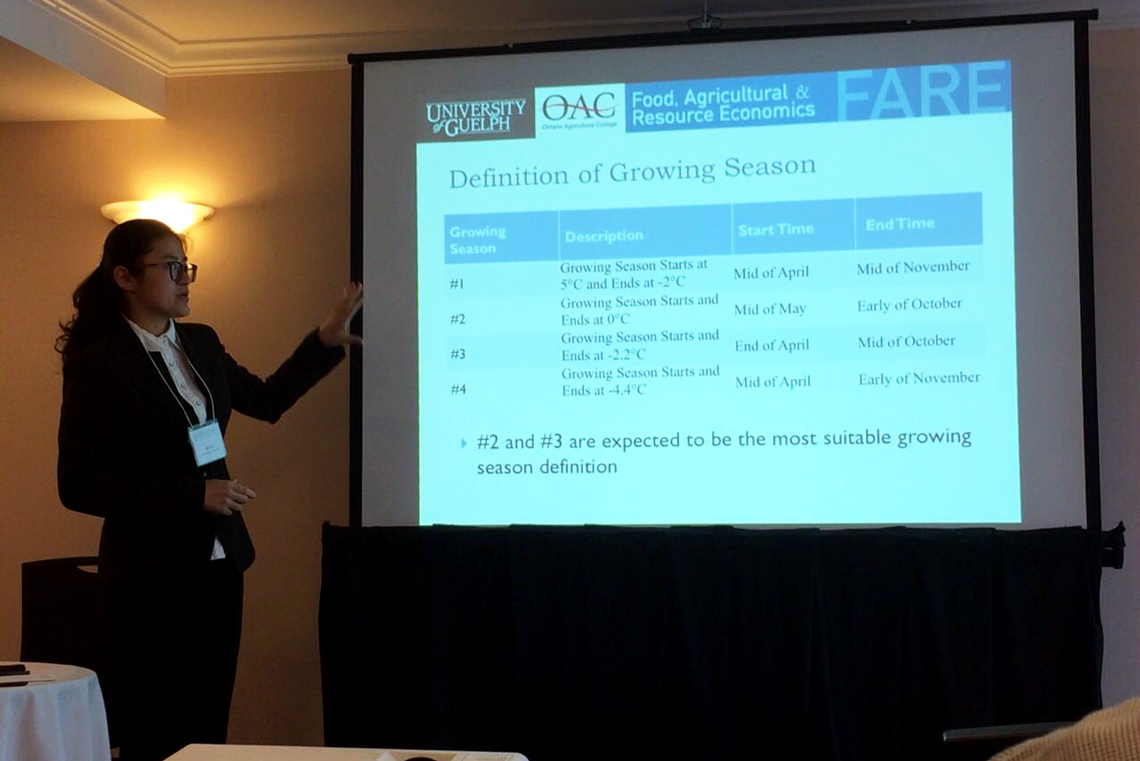 4:30 p.m.
In the late afternoon, I sometimes need to design PowerPoint slides for presenting my research findings at conferences. I practice the presentation and obtain feedback and questions from my colleagues. This summer, I presented a term paper related to my thesis at the Canadian Journal of Agricultural Economics (CJAE) conference in Victoria, BC.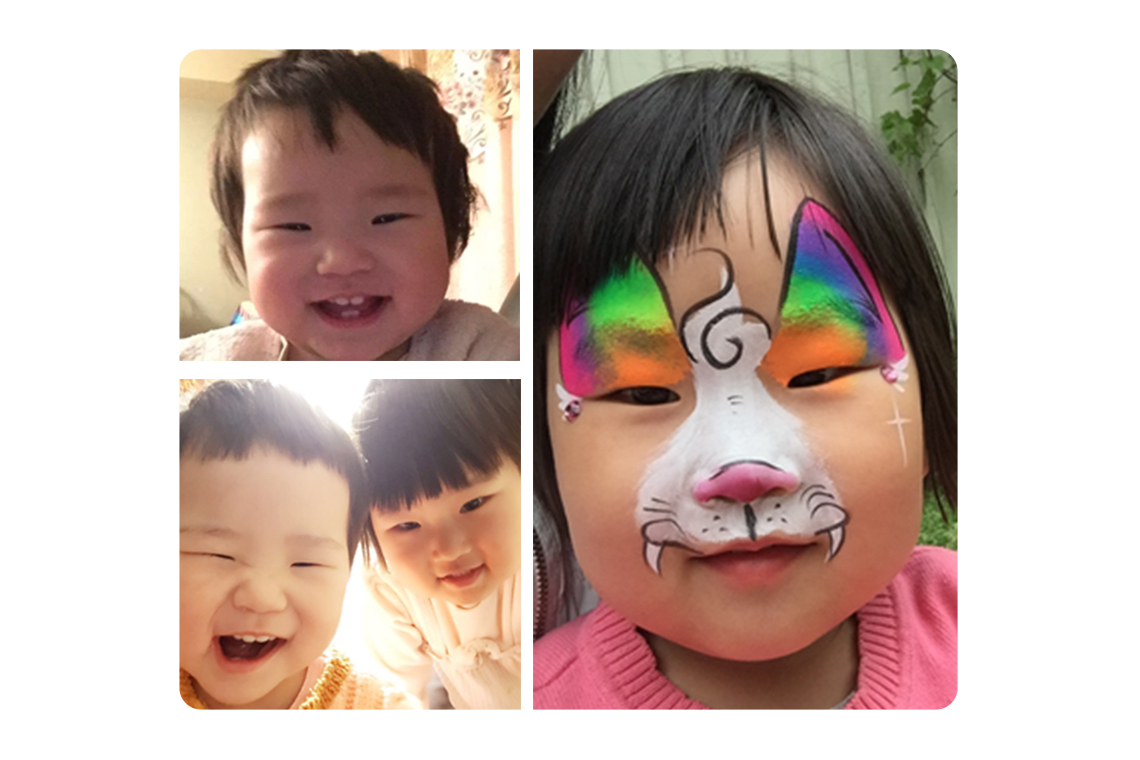 7:00 p.m.
My leisure time is spent with my daughters, Phoebe and Amy, and my husband. In the evenings we take walks outside, play with chalk and bubbles in the yard, dance at home, read books and make crafts in library. Sometimes, we go to Riverside Park to ride the mini train and carousel, or we go swimming. There are endless ways to play with kids and have lots of fun with them.