Lauren Erland is a PhD candidate with the Gosling Research Institute for Plant Preservation (GRIPP) in the Department of Plant Agriculture. Her research works to better understand the mechanisms and functions of phyto (plant) chemicals called indoleamines in plant growth and development processes. Being a part of GRIPP provides Lauren with an amazing support network and lots of opportunity for collaboration with other students, postdocs and professors. Learn what a typical day is like for Lauren by clicking the arrows below.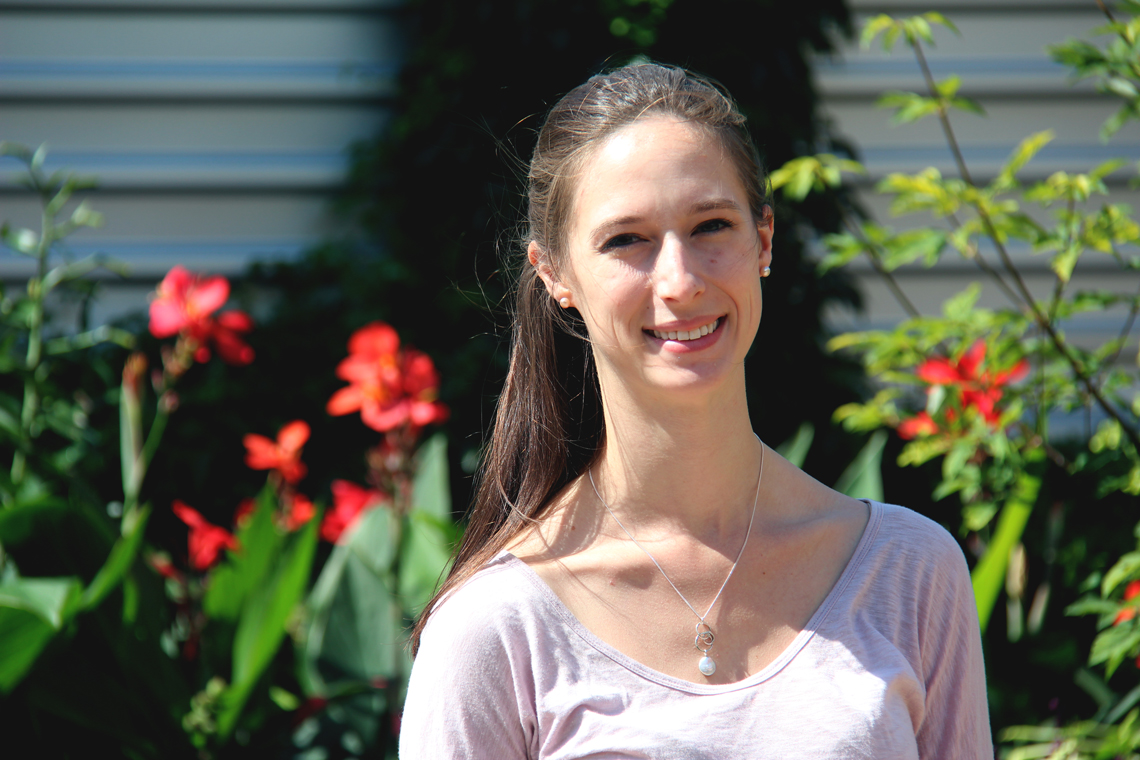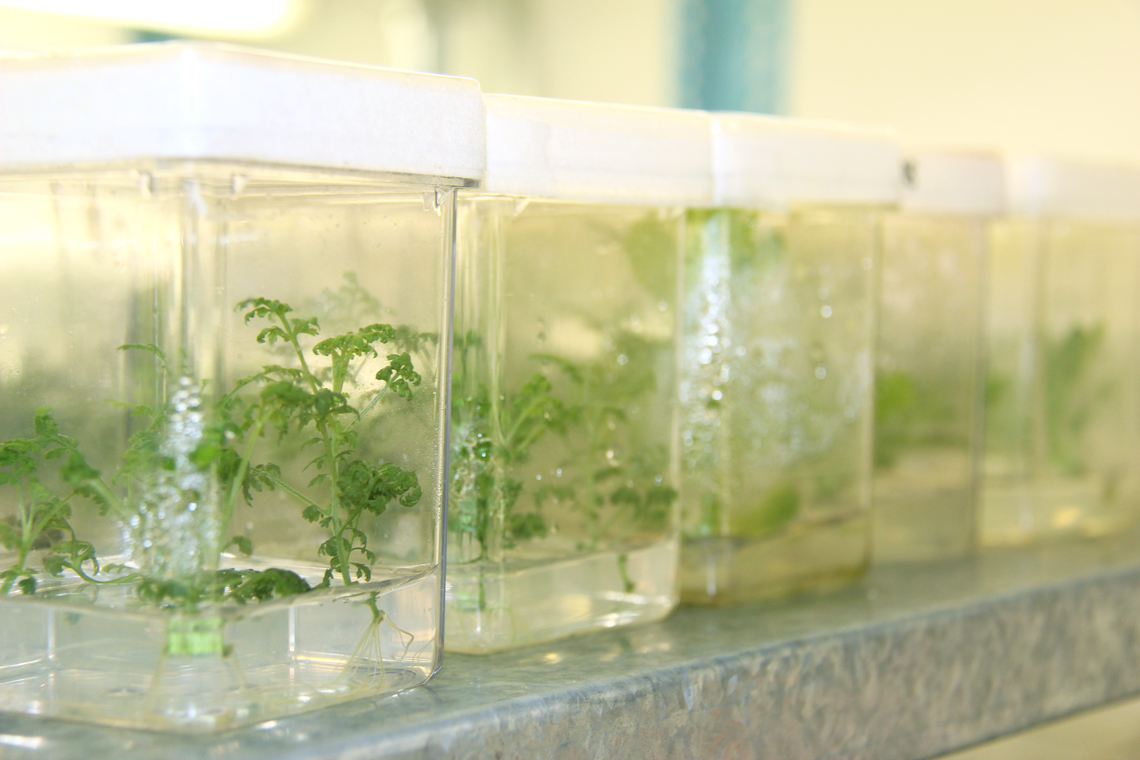 9:00 a.m.
My day usually starts with a trip to the growth room to check on the plants I use in my experiments. Instead of focusing on one specific plant species, my research focuses on a specific class of phyto or plant chemicals called indoleamines, which means I have a wide array of plants to use. All the plants are grown in tissue culture; they are completely sterile and their growing conditions are closely controlled.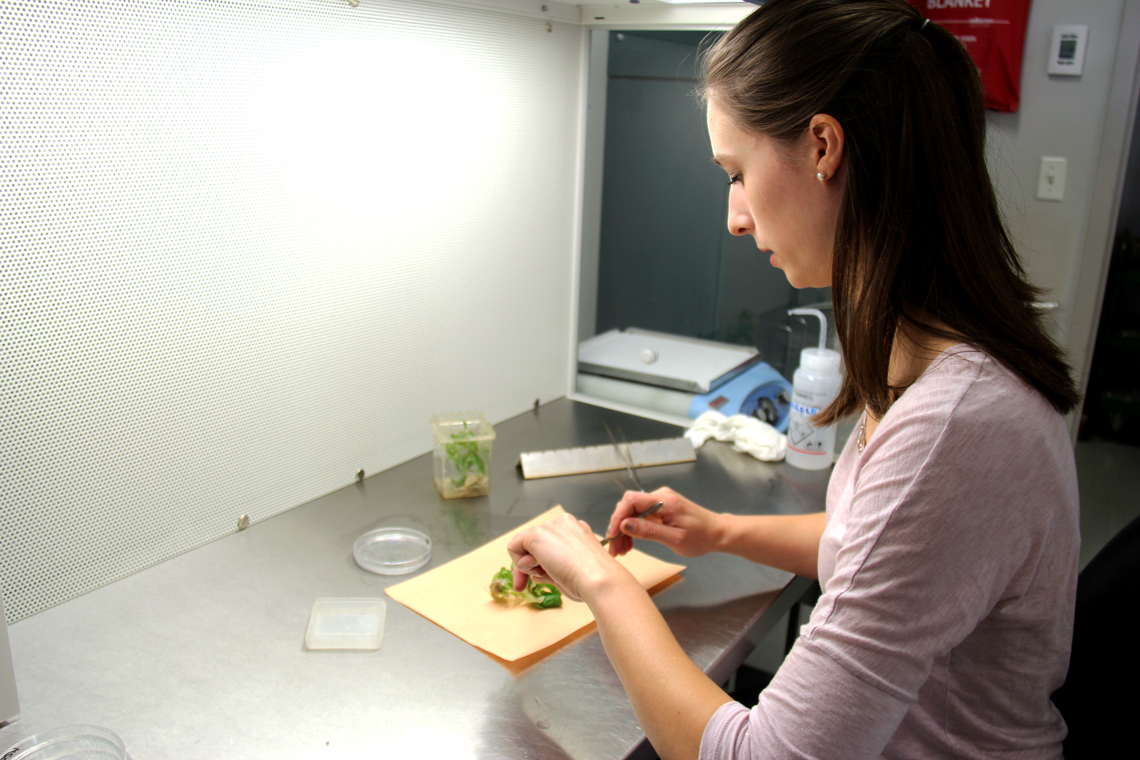 9:30 a.m.
As the plants grow, they can become too large for their containers, use up the nutrients in the growing medium, or accumulate toxic substances. Every few weeks the plants require regular subculturing (transferring some of the plant tissue to a new culture) to maintain uniformity and health. By starting experiments with these subcultured plants I can monitor their growth and development (growth of shoots, roots and leaves) when different chemical or physical treatments are applied. This helps me to better understand their physiology under a given set of conditions.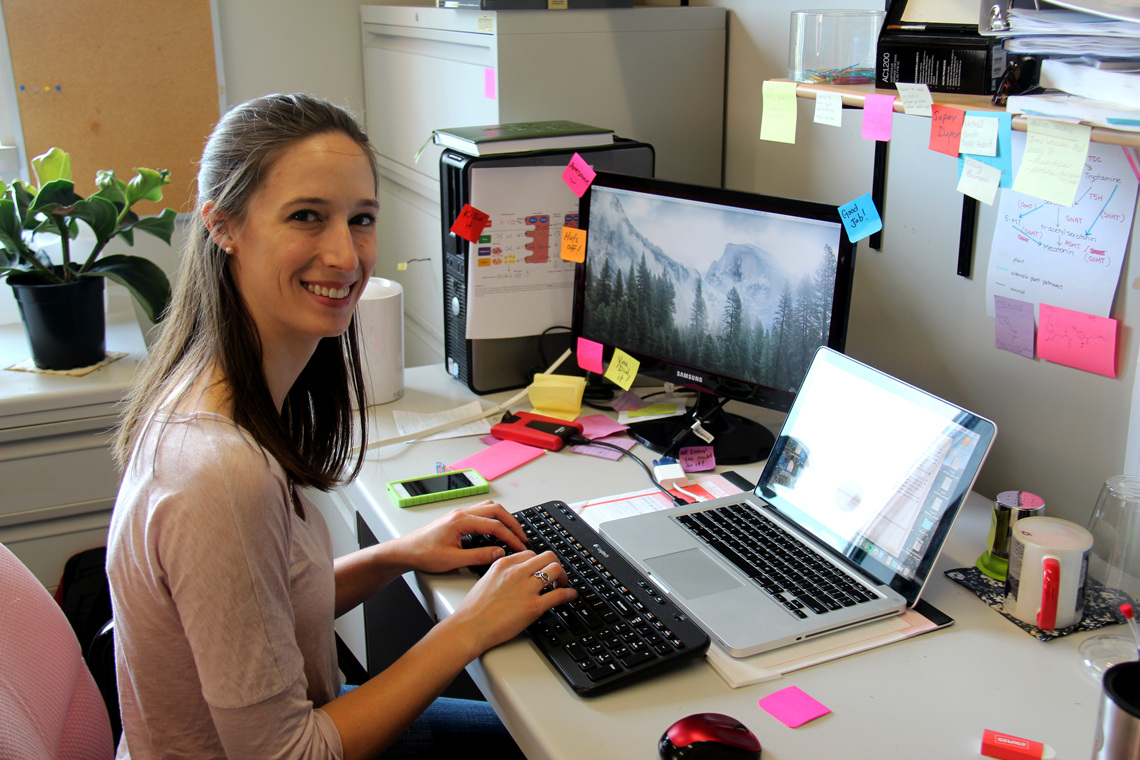 12:00 p.m.
Lunch usually involves some multi-tasking. I will try to catch up on some emails and work on writing up my research. The goal of all research is to share the results with the scientific community in the form of published research articles, and I usually have one or two articles on the go at any given time.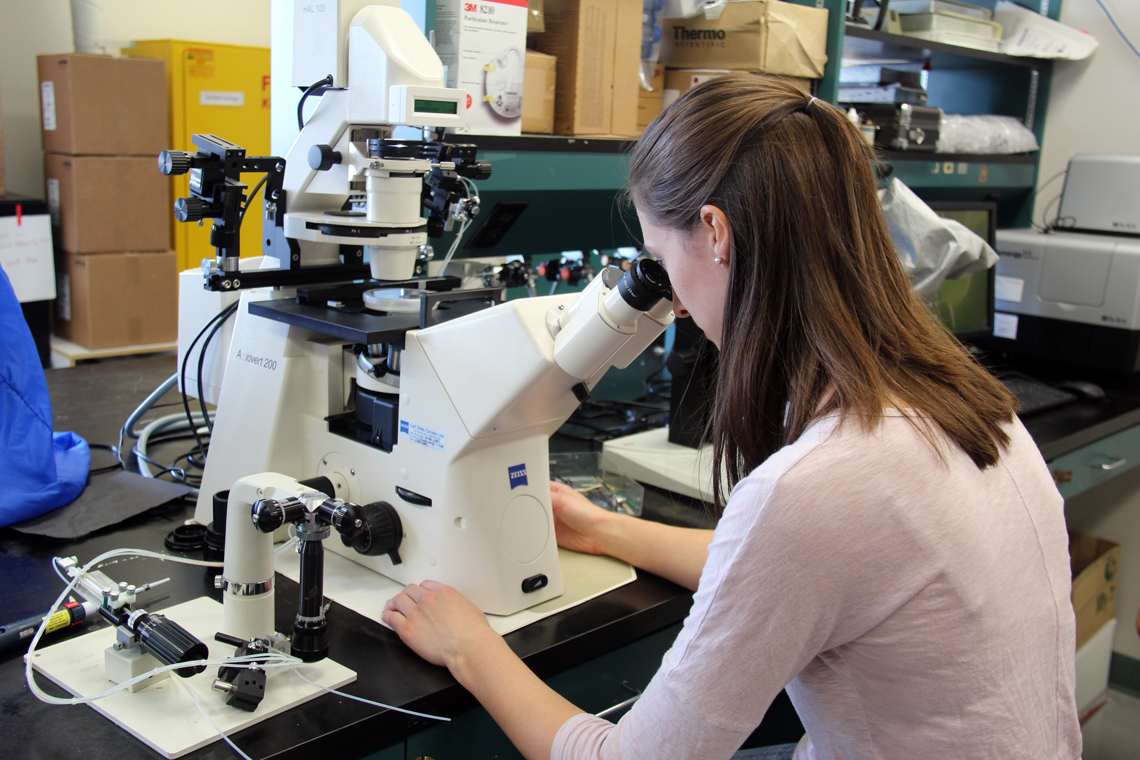 1:00 p.m.
After lunch I usually take some time to collect growth data. For larger specimens and observations I can collect the data visually, however I also collect observations at a microscopic level. Here I am looking at a fern specimen under the microscope to determine the number of spores.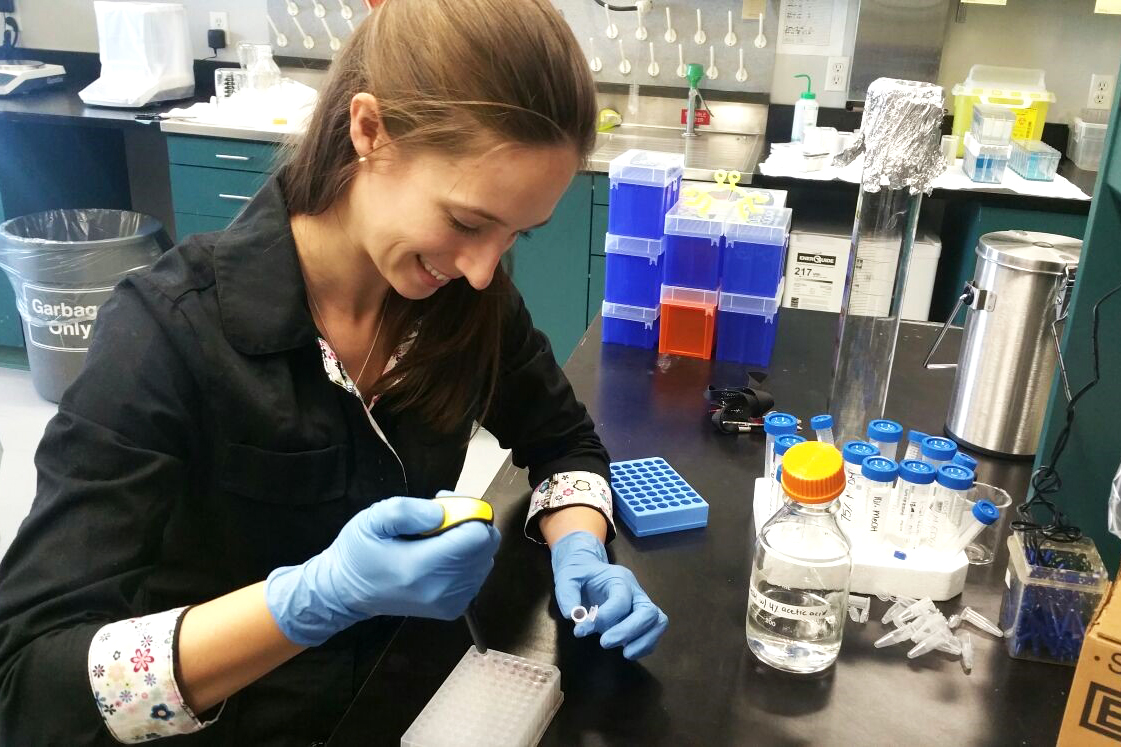 1:00 p.m.
If I have already collected the growth data for an experiment the next step is to perform chemical analysis. The chemical analysis quantifies the exact amount of indoleamines, specifically melatonin and serotonin, and other important plant growth regulating compounds present in the plant tissue. This gives valuable insight into how the observed growth is actually mediated by the phyto chemicals.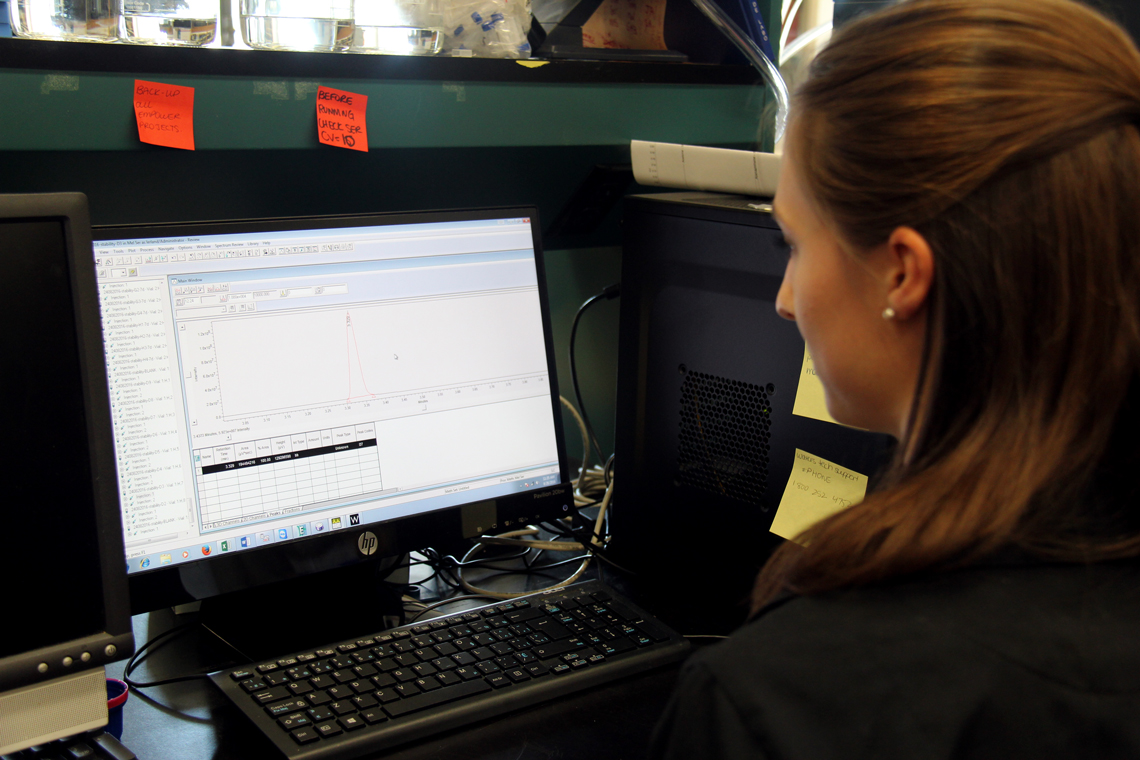 5:00 p.m.
Before heading out for the day I like to check through the data I've collected to ensure everything is running smoothly, particularly with the instrument we use for chemical analysis. It's called an ultra performance liquid chromatography with a mass spectrometer (UPLC-MS). This instrument provides charts indicating the number of molecules in a sample after separation across a column. It's essentially a really high tech version of the "black marker on a coffee filter experiment" from grade school.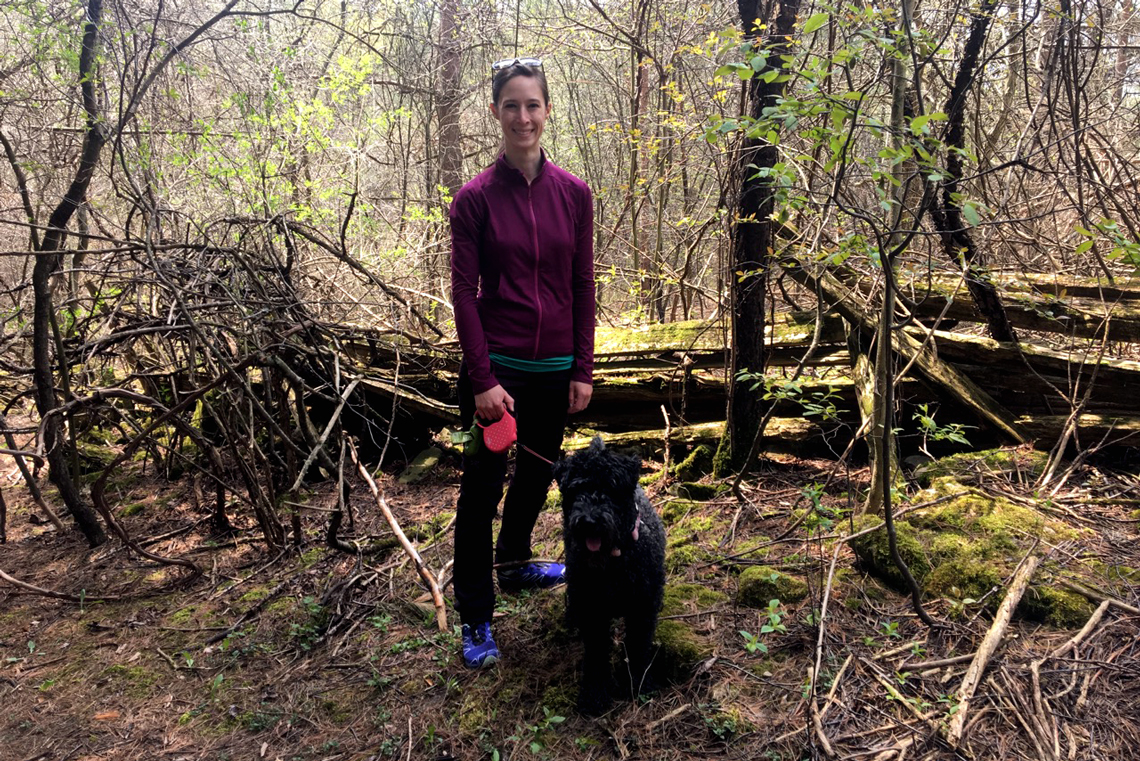 5:30 p.m.
My favourite thing to do after a long day in the lab is to either grab a beer with some friends at the Grad Lounge on campus or, as I am doing in this picture, go out and enjoy the extensive walking trails around Guelph with my dog Piper.