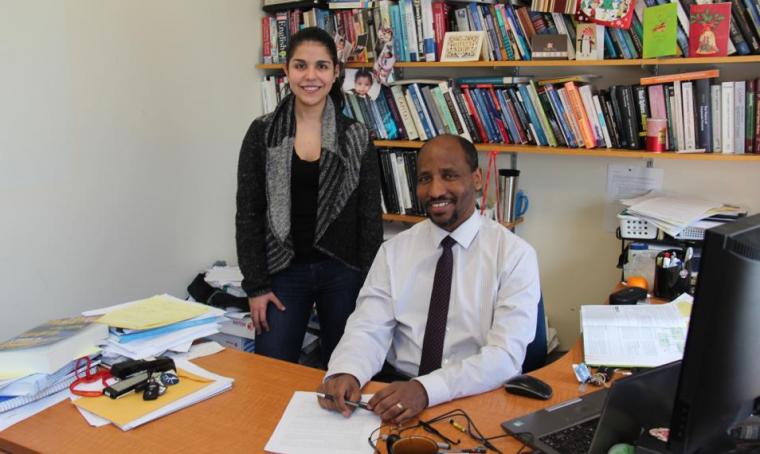 A look at the competitiveness and productivity of our nation's food manufacturing sector shows a high level of technical efficiency in Canadian firms – but more innovation investment is needed to grow and diversify the industry.
Prof. Getu Hailu, Associate Professor in the Department of Food, Agricultural and Resource Economics, and graduate students Natalia Piedrahita and Zili Lai have been studying the opportunities and challenges facing food processing businesses in Canada.
"We are seeing food processors and canners downsizing, merging and closing, while at the same time new plants are starting, and existing ones are also expanding, so we're looking at how the sector is faring," said Hailu, whose work is funded by the Ontario Ministry of Agriculture, Food and Rural Affairs (OMAFRA) - University of Guelph Partnership.
According to Statistics Canada, Ontario's food and beverage sector revenue from goods manufactured grew an average of approximately two percent annually, increasing from $35.2 billion in 2010 to $38.4 billion in 2015. Nationwide, the average annual growth of the sector was 3.2 percent during the same time, increasing from $87 billion in 2010 to $102.4 billion in 2015.
Higher productivity among exporters
Productivity levels are directly connected to firms' participation in export markets, the research found.
"Companies that export have higher productivity levels on average than non-exporting companies," Piedrahita said. "We did find that the higher the level of productivity of a business is, the more likely that business is to export. However, we also found that entering export markets has no influence on the growth in productivity in the short-run."
Overall, the top 10 per cent of food manufacturing businesses were over three times more productive than those in the bottom 10 percent. And exporting food manufacturing businesses were found to be approximately eight percent more productive than non-exporters.
Investment in innovation
A key issue that concerns Hailu is long-term investment. When food processors struggle with squeezed margins, one of the first ways they respond is to focus less on long-term investment, he said, a short-term response that is understandable, but has implications for future production.
"The Canadian sector is behind in investment in technology - for every dollar invested per worker in the United States, we invest 62 cents," Piedrahita said. "Government and businesses should work together to increase investment in research and development, and should be a priority for the food processing sector".
In Ontario, the food and beverage sector lags behind the province's manufacturing sector as a whole in research intensity (spending on R&D as a proportion of Gross Domestic Product).  In 2007, the rate of R&D spending as a percentage of the GDP was 0.72 percent for food manufacturing compared to 4.55 percent for overall manufacturing. By 2012, R&D intensity had risen to 4.8 per cent for overall manufacturing, but dropped to only 0.6 per cent for the food and beverage sector.
Food processing is a low-margin, high-risk business, so finding funds can be challenging,  but Hailu and Piedrahita encourage small and medium size enterprises to focus on technology and investment in innovation, to collaborate with universities, and make use of incubator programs that provide start-up or expansion support.
Food industry productivity benefits the whole economy
The sector does present opportunities, though. It was the only sector to see growth in productivity and employment during the last recession and the coming free trade agreement with the European Union will open up new markets. That's important to a country like Canada.
"Canada only has 35 million people, and our market is small and geographically dispersed, but if we are exporting more, we are producing more, using more farm inputs, and hiring more people – and that will help firms explore the benefits of economies of scale," Hailu said, adding this will help meet the Premier's challenge of doubling growth and adding 120,000 new Ontario jobs by 2020.
According Food and Beverage Ontario, approximately 65 percent of Ontario's agricultural production is purchased by the province's food processing sector, meaning a more productive food industry will have direct trickle-down effects on farmers, offering more and potentially higher value market opportunities.
And there are economic implications for municipalities too: competitive firms with higher margins come with job opportunities and associated tax revenue benefits that help attract and retain an area's residents.
The research has already been presented to food manufacturing policy staff at OMAFRA, as well as in one-on-one settings with ministry representatives, who hope to make use of some of the findings in the development of the next agricultural policy framework that's currently underway.
The outcomes have also been shared at the Graduate Student Symposium, the 2016 Canadian Policy Network conference and the 2016 annual meeting of the Canadian Agricultural Economics Society.