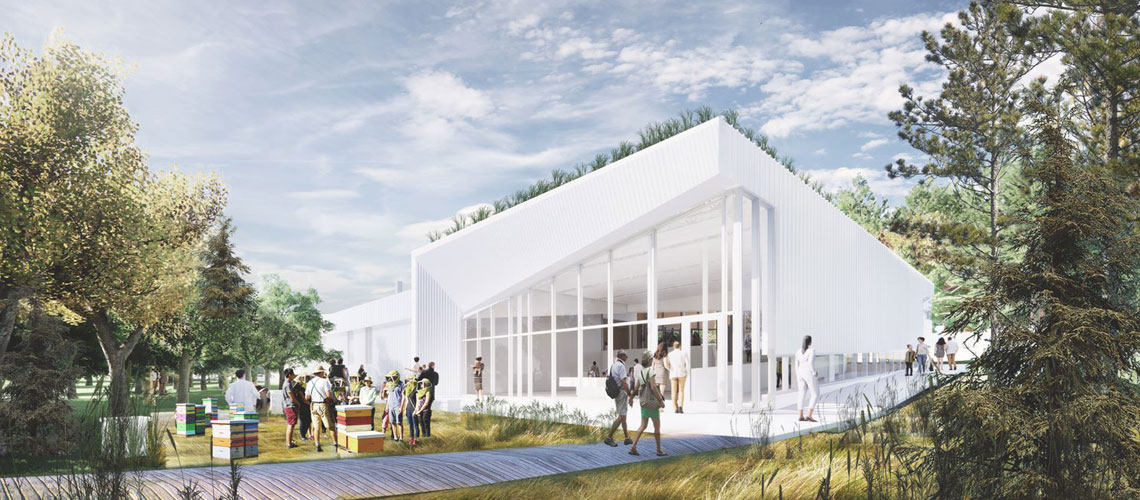 Honeybees and other pollinators provide the pollination necessary for one third of the food humans and wildlife require. The Honey Bee Research Centre's (HBRC) [1]mandate is to help honeybees continue this essential activity. The HBRC team conducts research, teaching and outreach primarily focused on honeybee health.
The Honey Bee Research Centre conducts:
Research on honey bee health and breeding, as well as on hive management
Teaching and training through university courses, labs, introductory beekeeping courses provided to staff, graduate students, national and international interns, volunteers and visiting scholars.
Beekeeping, including all aspects of hive management, honey production and extraction, wax rendering, candles, pollen, propolis, queens and bee breeding
Extension and outreach through tours, 'how to' videos, educational materials, websites, beekeeping industry meetings, volunteer programs, bee yard demonstrations, an apiculture club, a book and equipment library, and the design of bee keeping equipment and tools
Sales of honey, hive products, educational materials, and queens
Fun fact: The work done by the HBRC today, builds on an apiculture program that has existed since the late nineteenth century.
As honey bee health has declined significantly in the past decade, the HBRC's role in bee health research has become increasingly important and recognized. The general public and all levels of government are now well aware of the importance of honey bees and are engaged in learning more about pollinators and in initiating projects to address the many factors affecting bee health. The interest in the hobby or profession of beekeeping has also surged exponentially. The HRBC enables access to apiculture courses and many other educational experiences for university students and the wider community.
A Vision for the Future: An iconic building
We are creating a new, iconic facility focused on bee health education, research, advocacy and outreach. The facility will become a destination. It will be a place of excellence in both design and function, while continuing to execute excellence in research.
Honey bees have always fascinated people. They are supreme examples of interdependence in nature and agriculture. With the right location and facilities, the HBRC will be able to amplify its research and education programs and provide more meaningful public outreach. Together we can create a community movement around supporting bees and bee health through the HBRC.
In addition to a 100 hive apiary, the new facility design may include, but is not limited to:
Public areas (indoor and outdoor) with interactive education spaces where visitors can experience either self-guided or guided tours
Classroom space that can double as event space
A gift / book shop that is accessible either from an atrium and/or from an exterior door
A research laboratory and a facility for extraction/processing and packaging of hive products including honey, pollen, propolis, beeswax and honey bee queens
Office space and a laundry room
Gardens and parking
More information on the HBRC and the re-location project is available through the HBRC Relocation FAQ [2].