Written by:
Emma Drake, Communications Summer Intern
Twenty-four years ago, Tara Israel competed in the 1991 Pan Am Games in Havana, Cuba. Representing Canada, the competitive swimmer competed in Women's 4x200m Freestyle Relay, Women's 400m Freestyle and Women's 800m Freestyle. She brought home one silver and two bronze medals, contributing to Canada's 127 medals won at the 1991 Games.
In the Department of Plant Agriculture, where Tara works as the Undergraduate Administrative and Liaison Officer, her accomplishments at the 1991 Pan Am Games are a little known fact. Even as the 2015 Pan Am Games in Toronto are fast approaching.
From a very young age, Tara was enrolled in swim programs. After completing all the levels allowed for her age group, Tara, at the suggestion of her coach, began swimming competitively at age ten. However, it was only after competing in the Alberta Summer Games that Tara really began to think seriously about competitive swimming. It was at these games that Victor Davis, a high-profile swimmer at the time, gave Tara her medal. "That was so exciting. My hero was giving me my medal," shares Tara. Following the Alberta Summer Games, Tara competed and travelled nationally and internationally, including a 3 Nations training camp in Hawaii.
Training for the swimming competitions, including the Pan Am Games, was very demanding. Her training consisted of two to two and half hours of in-pool training, and 30 minutes to an hour and a half of dryland training five nights, and most mornings, each week. Her hard work and training most certainly paid off.
Tara, although not competitively swimming now, was thrilled when she learned that Evan Van Moerkerke, a fourth year Bachelor of Science in Agriculture - Crop, Horticulture and Turfgrass student, would be swimming competitively at the Pan Am Games this summer.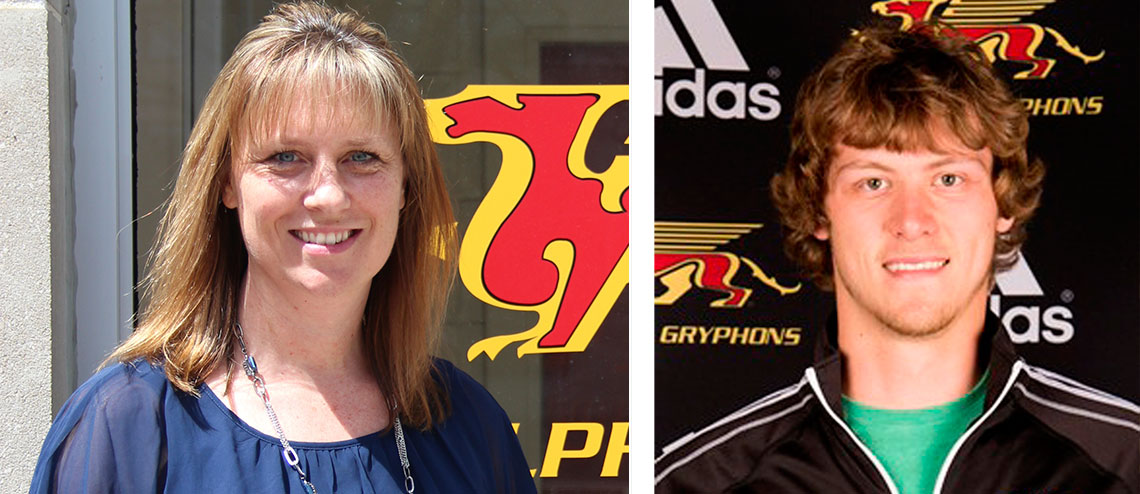 Evan will be competing in the Men's 4x100m Freestyle Relay on July 14th, with preliminaries in the morning and finals that evening. A natural in the sport, Evan skipped many beginning levels in his swimming program and began swimming competitively at age nine. Having represented Canada at the 2011 FINA World Juniors in Lima, Peru, Evan is no stranger to high-pressure competition and is excited to represent Canada this summer at the senior level.
"I am looking forward to all the excitement that will come along with competing on our home soil," explains Evan. "It is an honour to represent Canada here at home, and it's going to be an incredible experience with a hometown crowd cheering us on."
The Pan Am Games are held every four years by nations across the globe. Forty-nine sporting competitions comprise the multi-day event, such as archery, golf, rowing, and of course, swimming.
Leading up the Pan Am Games this summer, Evan will be training one to two times a day, balancing in-pool and dryland training. Evan will also attend a weeklong staging camp in London, Ontario before the games this summer, for additional training and preparation.
Swimming and competing provide a source of adrenaline for both Evan and Tara, and they both share a love of the competition and a desire to always better technique and time. The two also value the teamwork component that exists within the swimming community.
For Tara, her Pan Am Games experience was one where she made lifelong friends. "I have friendships that have lasted from those games, purely based on getting to know each other in that intense event," she explains. And for Evan, he describes his swim team here at the University of Guelph as more of a family than a team.
Tara and Evan also share a sense of community in the Ontario Agricultural College and the Department of Plant Agriculture. Their connection as a Pan Am Games medal winner and a future competitor, in the same sport, seems to be unique on campus.
"My advice for Evan is to go out and embrace and enjoy the event. Remember to be proud of yourself; making it to the Pan Am Games is a great achievement," Tara shares. She also hopes to bring her sons to the Pan Am Games this summer to cheer on Evan and introduce them to the sport.