LA Alumni 2022 Newsletter
Contents
Happy New Year landscape architecture (LA) alumni! We are so grateful to the Landscape Architecture Alumni Association (LAAA) for making the commitment to connect the alumni community of the landscape architecture programs here at the University of Guelph.
Creating strong connections with our LA alumni has never been more important as the programs and the school grow. The profession and the needs of students continue to rapidly evolve, especially via technology developments, not least of which, the data revolution and the rise of artificial intelligence. 
You see first-hand how the profession is changing and you understand our need to respond with, for example, new and more faculty members and renovated and modernized learning spaces. I encourage you to come and see what is happening in the school, to meet the new faculty and to see the studio renovations when it is safe to do so. 
We are very grateful that Sean Kelly has been reappointed for another five-year term as director of the School of Environmental Design and Rural Development. Sean has worked closely with the LAAA since its founding and together they have a vision for U of G to be a global leader in landscape architecture education. I encourage all of you to connect with your fellow alumni and the college and school to get involved in the future of the school and the future of landscape architecture. I hope you and your families have a safe and happy new year!
Rene Van Acker, OAC '89
Dean, Ontario Agricultural College | University of Guelph
---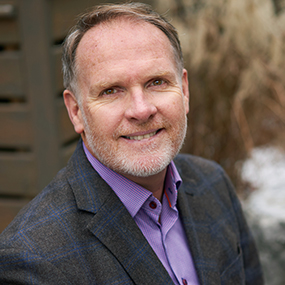 While many of us can readily characterize the last year without my input, I must say Fall 2021 has been a remarkable semester, in that we have welcomed many changes for the landscape architecture programs at Guelph. First of all, just being able to offer and finally deliver our many studios, face-to-face, with appropriate safety precautions, has been enriching for many.  A current generation of students have been fulfilling their programs of studies "remotely" for two years now, and it has been absolutely wonderful to see peer relationships, friendships, and studio culture ignite though the "in-studio" sessions. Landscape architecture is considered to currently have one of the most "on campus" presence at the University of Guelph.
Speaking of change, and studios, the programs have hinted at an impending and significant refurbishing of the BLA and MLA studios for a few years now.  I am very pleased to share that the studio renewal of the BLA3/BLA4 and MLA1/MLA2 studios have been completed, and have been in use since the start of the Fall semester.  Reviews are very positive suggesting that the shift to independent workstation and collaborative spaces, as the advanced learner-centred environment for our LA students, is welcomed. The addition of enhanced lighting, professional-grade wall, flooring, and ceiling treatments, ergonomically supportive furnishings, and three multi-media "crit centres" are having a tremendous impact on learning and teaching efficiencies. You can view photos of the Landscape Architecture renovations here.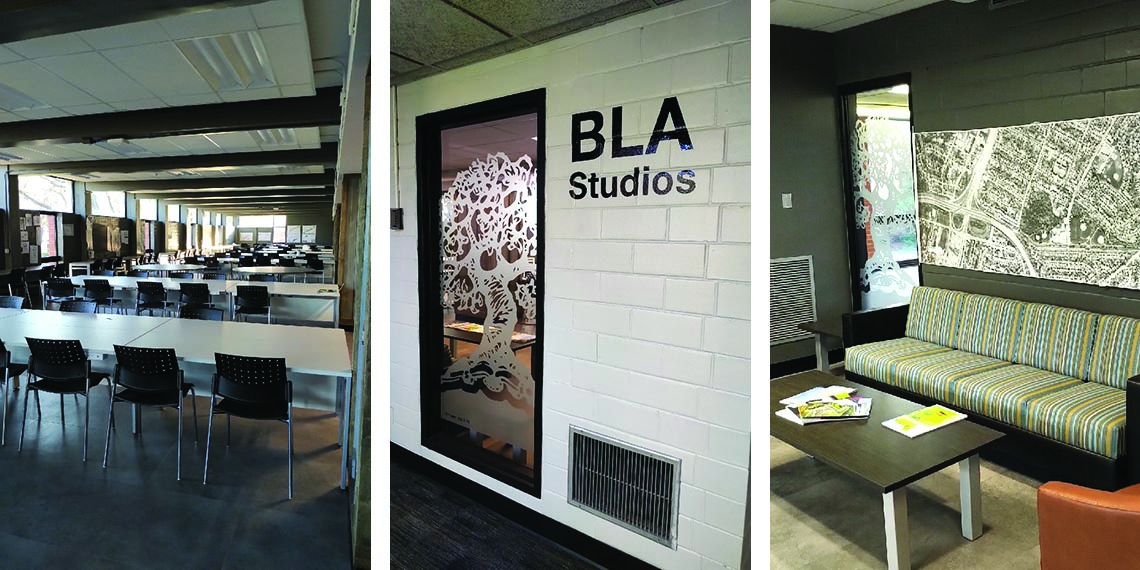 And more change!  We have been very fortunate to include two more faculty with the addition of assistant professors Afshin Ashari and Zannah Matson. Afshin joined the team in Fall 2021, and came to SEDRD from professional practice, most recently working with Brooks McIlroy Inc. of Toronto, a design and planning practice fusing the fields of architecture, landscape architecture, urban design, planning and Indigenous issues. Afshin is already making a mark bringing his interdisciplinary background in landscape architecture and computer science to the students using computational, parametric, and his digital design representation activities for learning. Afshin has a Master in Landscape Architecture from the University of Toronto and a Bachelor of Computer Engineering from Azad University of Tehran.
Zannah Matson comes to the LA programs from her previous appointment as Assistant Teaching Professor in the Penn State Department of Landscape Architecture and a Design for Spatial Justice Fellow at the University of Oregon Department of Landscape Architecture. Before teaching in Landscape Architecture, Zannah taught Urban Planning, Urban Design, and Geography at a number of different institutions. She has a Masters in Landscape Architecture from the Harvard Graduate School of Design, and in professional practice she worked with OPSYS Landscape Infrastructure Lab as Project Manager and Lead Exhibition Designer for the Canada Pavilion at the Venice 2016 Architecture Biennale. Zannah's research and design work has tremendous appeal focusing on the histories and contemporary reinterpretations of landscapes throughout processes of colonization, violence, and state infrastructure projects. Zannah commences her teaching with Guelph in the Winter 2022 semester. Landscape Architecture at Guelph is very fortunate to have the talent of these two individuals joining our faculty team.
Generally, Landscape Architecture at Guelph continues to be "at capacity" boasting a student body of +300 (BLA + MLA); tremendously diverse in both background and aspiration, and representative of practically every interest and cause imaginable. Mentioned on many occasions, Guelph's landscape architecture alumni surpassed 1700, and in part, continues to provide great service in awareness of the profession. Demand for our two programs remain robust seeing in excess of 400 applicants for our 65 BLA seats and ~100 applicants for our 18 MLA seats. Professors Martin Holland and Rob Corry respectively continue to coordinate these busy and productive programs, seeking the very best in talent and outcomes.
Landscape architecture at Guelph continues to have a very strong presence at the university, in many communities, and in our profession. We are very proud to continue this involvement, and as "things open up", our programs continually seek new avenues for engagement with the profession and our alumni. Our students are eager to participate in professional events, networking opportunities, interdisciplinary competitions, and outreach/experiential learning in general – please reach out if you have ideas and/or opportunities for our students, destined to be your colleagues as Guelph's LA alumni. The continued efforts (and successes) of Guelph's LA community is something we all share, should be proud of, and should nurture. Thank you for your support.
Sean Kelly, BLA '89, OALA, CSLA, ASLA
Director and Professor, School of Environmental Design and Rural Development
University of Guelph
---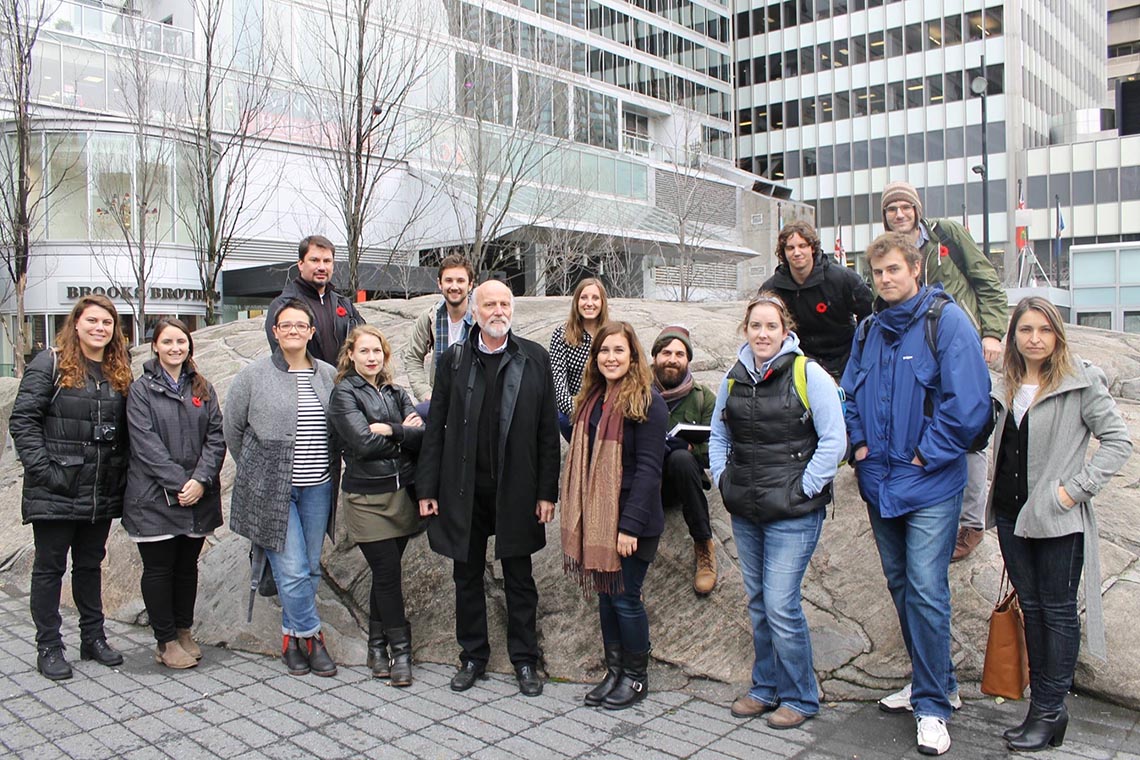 Elizabeth Birks currently works as a landscape designer in Toronto for IBI Group. Her primary focus is designing for several large-scale transit expansion projects, specifically, the public and private realm surrounding stations, as well as streetscape restoration. Elizabeth has a passion for designing public and private spaces, always striving to find unique ways to incorporate natural elements into her designs to improve the urban quality of life for the people that will interact with it. She has experience in several different areas of design and construction, from conceptual design, master planning, site plan approval, and construction drawings. Other areas of her design experience include public parks and plazas, Privately-Owned Publicly Accessible Spaces (POPS), university campuses, high-rise condominium developments, green roofs, as well as writing proposals for new projects.
Tatiana Zakharova is a playground designer with Earthscape Play and is currently pursuing her Ph.D. at the Faculty of Education at Western University. Tatiana's research focuses on the entanglement of pedagogy and design. Her work is a collaborative experimentation, as it wishes to reimagine play/grounding potentialities in wondering how can we respond, through design, to the question of living [well] together?
Nicole Lamirande currently works at O2 Planning + Design in Calgary, Alberta. At O2, Nicole has had the opportunity to see first-hand how landscape architecture can be utilized to shape dynamic spaces for and with communities by drawing on evidencebased solutions and creative expression. She has been part of a wide range of projects, from urban flood mitigation design, to naturalized restoration plans. Building on her thesis topic, Nicole is currently exploring methods to improve the success of trees in the urban landscape. Nicole hopes that by analyzing current practices, searching out innovative solutions, and testing methods in the field, a comprehensive guide can be developed for landscape architects and related professionals, thereby strengthening the urban canopy across communities.
Katie Nikota now lives in Parksville, a city on Vancouver Island in British Columbia. She recently completed an Ecological Restoration Certificate at the University of Victoria, allowing her to achieve more focus and acquire more knowledge on environmental projects and planning. Exciting news: Katie recently had a healthy baby boy named Tamarack!
David Ibey currently works as a Project Manager for Alexander Budrevics and Associates Limited in Toronto, Ontario. He is involved in the design and construction administration of a variety of projects in the public realm (parks, trails and open space development projects), and in the private realm, including high rise, low rise and industrial developments.
Stephen O'Neill currently works at Alexander Budrevics & Associates Limited in Toronto. Since graduating, he has gained extensive knowledge in the field of landscape architecture, working on a range of projects. His experience ranges from designing parks, industrial developments, and to high-rise condominiums. He has experience in all aspects of a project, from conception to construction and to contract administration. He looks forward to continuing his professional development and being able to apply his increased knowledge to future projects.
Michal Laszczuk currently works at LGL Limited, focusing on environmental restoration, including riparian planting design and reforestation, as well as meadow design. Additionally, Michal works on large-scale condominium projects, focusing mainly on their streetscape design, Privately-Owned Publicly Accessible Spaces (POPS), as well as stormwater management, Low Impact Development (LID) and bioswale design.
Amy Purvis currently works for the City of Kitchener's infrastructure services team in the area of both design and development. Amy focuses mainly on parks and open space design.
Brianna Collis is a botanist and landscape ecologist currently employed by Tsay Keh Dene Nation's environmental consulting company Chu Cho Environmental. She can be found at the top of a mountain identifying plants, on a mine site conducting research for large-scale landscape restoration projects, or at the desk mapping, planning and seeking funding for research-based activities that support the health and wellness of the landscape and people in northern British Columbia.
Katherine Xie currently works for L&A Design and is based in Shanghai, China. She focuses primarily on conceptual design, including rendering modelling and presentations. Additionally, she has considerable experience on designing for commercial landscapes as well as public space design.
Soon after graduating, Daniel Rotsztain was thrilled to have the opportunity to bring his MLA thesis research from concept to realization. Working with Professors Brendan Stewart and Karen Landman, they received grants from Park People and the City of Toronto to create the first plazaPOPS: a community-led initiative to transform strip mall parking lots into free and accessible community gathering places that support residents and businesses. After the success of our 2019 pilot in Scarborough, they continued to work with the City of Toronto as part of SSHRC-funded research to determine how to create a fully funded, citywide plazaPOPS program. This collaborative research approach led to plazaPOPS securing funding from the Federal Government to further develop the concept as part of a 3-year rollout of plazaPOPS installations throughout Toronto's inner suburbs. As part of Daniel's work with ERA Architects and the Centre for Urban Growth and Renewal, he will be facilitating this project toward a long-term, sustainable transformation of strip mall parking lots into people places throughout Toronto and beyond.
---
Q&A with James MacGregor, landscape architect
James MacGregor (Bachelor of Landscape Architecture, 1970) has led a rich career as both a landscape architect and a sustainable tourism planner. He founded North Africa's leading sustainable tourism planning, development and marketing firm, ecoplan:net, and has improved the sustainability of the tourism industry in over 40 countries.
---
Written by: Susan Cohen
As a schoolgirl in Germany in the late 1930s, Cornelia Hahn was told to slow down—a Jewish girl must not win the school track meet. In 1938, after a harrowing escape from the Nazis—to England by train with her mother and sister—Cornelia made a point of never, ever slowing down. 
Cornelia Hahn Oberlander, who decided at age 11 that she would be a landscape architect, became one of the most renowned and admired practitioners of our time, building a distinguished, influential and generous-spirited career that lasted almost eight decades. She died in Vancouver, British Columbia, her adopted city, on May 22, 2021, just a few weeks short of her 100th birthday. Until her final week, she spoke by telephone about the progress (and lack of progress) of her most recent project. 
Cornelia's adult life had two orbits: her family and her work. Family— her husband Peter, the noted urban planner, who died in 2008; her three children; and her four grandchildren—came first. She was always proud of them and eager to relate stories of their accomplishments. For Cornelia, friends counted as family, and she gave the gift of friendship freely.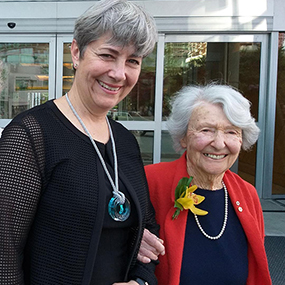 But her career engaged her intensely, and her strong work ethic was evident even during her student years at Smith College. She often shared the story of being kept awake by noisy late-night discussions of women's rights in Betty Friedan's nearby dorm room, and of how she suggested to the group that getting a good night's sleep and concentrating on their studies might be a better way for women to become successful. 
After Smith, Cornelia entered Harvard's Graduate School of Design as one of the first women in the landscape architecture program. Walter Gropius, then chair of the Department of Architecture, was a strong influence on Cornelia's lifelong embrace of a modernist aesthetic, and she mentioned him often. One of her favorite ways of announcing her approval of a design—any kind of design—was to state emphatically, "That's minimalism PLUS, my dear!" 
Upon graduating from Harvard in 1947, Cornelia worked for Louis Kahn and Oscar Stonorov in Philadelphia and in Vermont for Dan Kiley, who, she said, told her, "Cornelia, walk lightly in the woods." She answered, "But Dan, I always wear sneakers." Then she realized what he really meant. This was one of her favorite stories. 
It was at Harvard that Cornelia met Peter Oberlander, who was working on a PhD in urban and regional planning. Together they moved to Vancouver in 1953, and, some years later, built a handsome glass-walled house. Designed by Peter with the architect Barry Downs, it floats above and within a small forest; only at the front entrance does the first floor touch the ground. From the beginning, Cornelia worked at home, and her office there is simple, well-proportioned, and functional, with trees in view and her large library at hand. 
Despite her frequent pronouncement, "Cornelia does not do flowers," she delighted in the pots of annuals—usually in hot colors— that welcomed visitors at her front door every summer. If the flowers went unnoticed, she pointed them out. Up a few rustic steps and out of sight is the simple swimming pool she designed and used daily when the Vancouver weather permitted. Here too, she allowed a few flowering plants, including a favorite pink climbing rose that was always in bloom on her June 20th birthday. 
It is fitting that the first public success of Cornelia's career was the innovative and highly lauded Children's Creative Center at Montreal's Expo 67, as she never lost her playful spirit and her sense of joy—until her disheartening COVID-related confinement at home. Joy was Cornelia's default mode, and she often insisted that one must put work aside to make time for fun and the pleasures of life. For her, these pleasures included gatherings with friends and family, ceremonial occasions, good food, travel, museums, and music—especially the opera. 
Materials mattered to Cornelia, and, just as she sought out the best modular systems for her green roofs and the highest quality plant material for her projects, and even the best small orange juicer for her kitchen, she took great pleasure in buying the perfect outfit for each occasion. Like the materials she chose for her designs, or the furniture by Bertoia, Saarinen, and Le Corbusier in her home, her clothing purchases were meant to last. She wore her orange wool jacket for well over a decade, and she is wearing it in a photograph taken in Thomas Church's Donnell Garden on a 2006 trip organized by the Cultural Landscape Foundation. 
Cornelia also held strong opinions on the best brands to buy for different aspects of her work, from comfortable walking shoes to the hip boots in which she installed plants in her rain garden at the VanDusen Botanical Garden Visitor Centre. (In those boots, "I placed every plant myself," she said. She was then 90.) She even had the perfect "schlep bag," as she called it, in which she carried all her necessary papers. She found the right outfits in which to install plants near the Arctic Circle (Yellowknife, in the Northwest Territories), to give lectures (probably more than a hundred), and to accept an honorary degree (of which there were at least a dozen). Also, she only bought things that packed well, and she always traveled with one small carry-on bag, even on long trips. For special events, Cornelia most admired Vancouver's Zonda Nellis, whose garments she treasured as art as much as clothing. 
Like most landscape architects, Cornelia loved outdoor activities. Never deterred by rough weather, she once suggested, while visiting friends, that they take a walk together during a frightful blizzard. (They did.) In winter, downhill skiing at Whistler every weekend was a high priority until her early 80s, when she switched to cross country. Also, for many years she and a childhood friend would meet in Switzerland for weeklong summertime hikes in the Eglantine. And, of course, all who knew her can attest to how fast she walked. 
Her children's playground at Montreal's Expo 67 led to many others—a total of 70 in Canada. As her work drew more recognition, more commissions followed, including many residential projects that still stand the test of time. 
For the landmark rooftop of Vancouver's downtown Robson Square, Cornelia was interviewed by the architect Arthur Erickson. She told him that she wanted to bring the trees that surrounded Vancouver into the city. She was hired and began work in 1974. The project brought her fame, both as an inventive designer and as a pioneer in green roof construction. In what became her standard practice, her innovative designs were fired by her expansive imagination but, importantly, also informed by extensive research. 
A few years later, Cornelia's iconic landscape for Erickson's new Museum of Anthropology at the University of British Columbia honored First Nations peoples with a design for a large reflecting pool with a shell beach that evoked the landscape of Haida Gwaii, the archipelago off the coast of British Columbia that is home to the Haida people. Although the museum opened in 1976, the permanent reflecting pond was not realized until 2010, at which time a meadow and an ethnobotanical area planted with maples, hemlocks, barberries, and ferns were added to the landscape. Cornelia was particularly proud of this project, but, with the frustrations of long delays, she most likely relied often on the power of her five guiding "P" words: patience, persistence, politeness, professionalism, and passion. 
In addition to her work with Arthur Erickson, Cornelia partnered with several other renowned architects, including Renzo Piano (for the atrium in the New York Times building), Moshe Safdie (for the National Gallery in Ottawa and, more recently, the Vancouver Public Library), and Perkins&Will (for the VanDusen Botanical Garden Visitor Centre). A year or so ago, she was very excited to relate that she had been chosen to work with Shigeru Ban, whom she very much admired. Collaborating with architects, engineers and other professionals became a signature of Cornelia's work. She credited Harvard's GSD for promoting this collaborative approach, and she believed it was essential for the responsible practice of landscape architecture. 
Just as she was an early proponent of professional collaborations, Cornelia began decades ago to speak passionately about the importance of sustainable, ecologically sensitive landscape design. She often said, simply, "We must make the world more green." The award-winning C. K. Choi building on the University of British Columbia campus, which opened in 1996, exemplified this approach, and Dan Kiley would have been pleased with the way the building (a collaboration with the architect Eva Matsuzaki and the engineer Jeanette Frost) sits "lightly in the woods." For this project, Cornelia placed the proposed building within the boundaries of an existing parking lot, successfully retaining a mature grove of existing trees. As a result of this collaboration of professionals, the building itself exceeded all the sustainability criteria then in effect and remains well-known for its many sustainable features. 
At her funeral service, Rabbi Dan Moskovitz discussed the concept, fundamental to Judaism, of Tikkun olam, which is usually translated as "repairing the world." But in reference to Cornelia, he reinterpreted this concept, calling it "repairing the earth," and credited her, appropriately, with devoting her life to that goal. 
Cornelia's delight in creating each new design was infectious. Yet she was equally enthusiastic about the work of other landscape architects she admired. She had her favorites, and you know who you are, because she told you so. During a trip to Japan in 1993, she arranged for a special visit to the Canadian Embassy in Tokyo to view the roof garden designed by the landscape architect and Zen priest Shunmyō Masuno, known for his dramatic use of stone in contemporary landscapes. The stones he chose for this project represent the geological character of Canadian bedrock and the ruggedness of Canadian topography. Cornelia, who was seeing it for the first time, was full of praise. 
In addition to her multiple honorary degrees, including one from her alma mater, Cornelia received the International Federation of Landscape Architects' prestigious Sir Geoffrey Jellicoe Award in 2011 for "outstanding contribution to landscape architecture through her lifelong commitment to her chosen profession." She was named a Fellow of both the Canadian Society of Landscape Architects (CSLA) and the American Society of Landscape Architects (ASLA). She also received the ASLA Medal, the society's highest honor. In 2016, she received the CSLA's highest honor as well, as the inaugural recipient of the Governor General's Medal in Landscape Architecture. She received the Order of Canada three times, in ascending levels of honor, including, in 2017, the highest, Companion, and she proudly wore her snowflake pin at professional meetings. In October 2015, she was awarded an Honorary Doctorate from the University of Guelph, and then proceeded to celebrate with students and faculty in the Landscape Architecture building.
In the 2018 documentary film City Dreamers, Cornelia was featured along with Phyllis Lambert (a life-long friend), Blanche Lemco van Ginkel, and Denise Scott Brown. In 2019, she was announced as the namesake of the new Cornelia Hahn Oberlander International Landscape Architecture Prize, which was created by the Cultural Landscape Foundation. The first award was presented in October, 2021, to American landscape architect and educator Julie Bargmann, the founding principal of D.I.R.T. Studio, whose work Cornelia admired. 
This past January, an exhibition, Cornelia Hahn Oberlander: Genius Loci, opened in Vancouver and then moved on to Alberta.
As is well known, Cornelia was always direct, and she offered advice freely. Among her many words of wisdom to me over the past 40 years, three directives stay in my mind: 
Remember, grading is everything. You must do your research. Never retire.
...
This article was excerpted and edited from "In Memoriam: Cornelia Hahn Oberlander," first published in "Landscape Architecture Magazine," June 2021. Reprinted with permission of the author.
SUSAN COHEN, FASLA, IS THE PRINCIPAL OF SUSAN COHEN LANDSCAPE ARCHITECT IN GREENWICH, CONNECTICUT, AND THE AUTHOR OF THE INSPIRED LANDSCAPE: TWENTY-ONE LEADING LANDSCAPE ARCHITECTS EXPLORE THE CREATIVE PROCESS (TIMBER PRESS, 2015). 
---
Dave Wright is the new president of Landscape Ontario
Dave Wright can't remember life without Landscape Ontario. Wright is the owner of Wright Landscape Services in Bloomingdale, Ont., and the new president of the association — an elected position he will hold for the next two years.
Continue reading, "Dave Wright is the new president of Landscape Ontario" here.
---
The COVID-19 pandemic has slowed us down, but hasn't stopped the train as it has already left the station. We are still meeting virtually and Elizabeth and Allan have been working diligently with the Dean's office 
to get our annual publication to you.
We are looking for new nominees to join the Board as we plan on meeting the future with new programs and events for the alumni and interfacing with the School.
We have had three resignations over the last eighteen months and have only been able to fill one: Elizabeth Birks who replaced Ron McCarthy. Prof. Rob Wright stepped down as he became Interim Dean of the Daniels School at the University of Toronto and Karl Stennson of Sheridan Nurseries fame has moved into full retirement. We applaud Rob and Karl for their work and dedication to the Board.
If you or anyone you know may be interested in participating please send nominations to any of the Board members or contact Taline Artinian in the OAC Dean's Office: artinian@uoguelph.ca
Currently your Board is comprised of:
President: Virginia Burt
Vice-President: Allan Ross
Director: James MacGregor
Director: Elizabeth Birks
Director: Rob Norman
Director: Linda Irvine
Director: Sarah Culp
Director: Dave Wright
Director: Paul Bridges
Ex-officio:
Rene van Acker, OAC dean
Sean Kelly, SEDRD director
Karen Landman, faculty representative