LA Alumni Newsletter - Inaugural Issue (2018)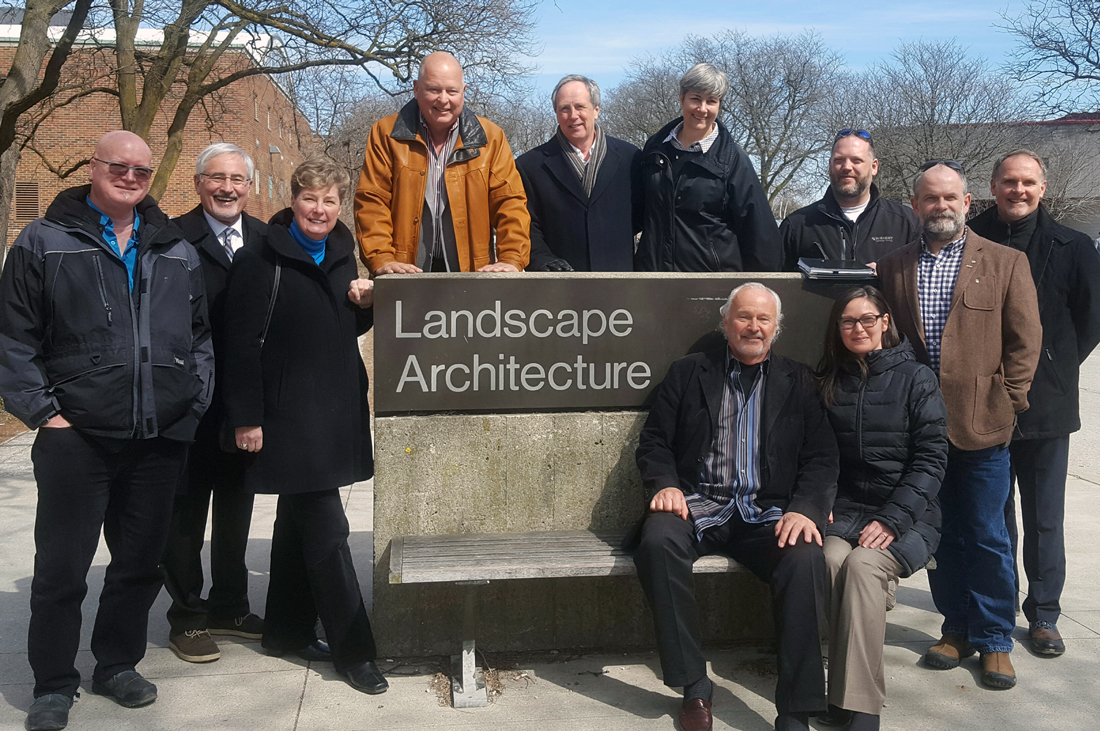 Photo above:  LAAA executive, left to right: Rob Wright (MLA '79), Ron McCarthy (BLA '70), Linda Irvine (BLA '78), Karl Stensson (BLA '73), Rob Norman (BLA '77), Virginia Burt (BLA '85), Dave Wright (BLA '96), Paul Brydges (BLA '94), Director Sean Kelly* (BLA '89)  Front Row: Allan Ross (BLA '69), Sarah Culp (MLA '06) Absent: James MacGregor (BLA '70). *Dr. Rene Van Acker and Sean Kelly are ex-officio members.  
Contents
It is a great pleasure to announce formation of the Landscape Architecture Alumni Association (LAAA) to serve graduates from the School of Environmental Design and Rural Development (SEDRD) at the University of Guelph. Much has evolved in the five plus decades since the first 10 eager graduates hit the employment market and it is our objective to support the school, connect with students, and ultimately, raise the profile of our fine profession.  
The first LAAA meeting took place in March of 2017 in Johnston down the hall from the Dean's office (and dare I say, upstairs from the former Der Kellar!). We are thrilled to have OAC Dean, Dr. Rene Van Acker's full support. Sean Kelly, then newly minted Director of SEDRD, provided an overview of the school and exciting growth opportunities – please see their welcoming comments below.
Folks, this is a start so please get in touch, become engaged and involved: Your participation will benefit and support our school. I invite you to reach out and connect with me anytime.
Looking forward to seeing you at the inaugural LAAA event in April at the CSLA/OALA!
Virginia Burt, FCSLA, FASLA
President, Landscape Architecture Alumni Association

Photo above:  Virginia Burt, President of the Landscape Architecture Alumni Association
First of all, congratulations to our Landscape Architecture (LA) alumni for forming an alumni association. I have been so impressed and encouraged by the founding group. Their dedication to LA at the University of Guelph is fantastic and I feel lucky to work with such engaged alumni who are committed to the success of their peers, our students, and the profession.
During my time with the College, I have come to understand the important function LA plays in our society. Landscape architects play a fundamental role in making connections between people and the living landscapes, and in sustainability. You make our world more interesting while ensuring it is protected for future generations.
It strikes me that this alumni association is extending this mentality to their support of LA at U of G. This founding group wants to support initiatives that connect alumni and current students, which strengthens both the future of the program and the profession. An established alumni community can be so supportive and invaluable professionally and personally.  It can also be a lot of fun.
I look forward to meeting and working with all of you on initiatives, including our hope of a new LA space, that will help elevate the LA programs here at the University of Guelph. These are exciting times!
Rene Van Acker
Dean, Ontario Agricultural College
University of Guelph

Photo above:  Rene Van Acker, Dean of the Ontario Agricultural College
Since its start in the mid-1960's, Landscape Architecture at the University of Guelph has generated over 1700 alumni.  While we have evolved within a School of Environmental Design and Rural Development offering 6 programs in 4 disciplines, the Landscape Architecture programs continue to hold prominence offering both the BLA and MLA; we remain a vibrant community of close to 350 LA students.  We are still housed in the beloved (but tired) Landscape Architecture building and have retained our tremendous location on campus.
I have very fond memories of my own time as a landscape architecture student (1984-89) at the University of Guelph.  Many things have inevitably changed but connections, familiarity, and interest in my colleagues and now the mentorship of forthcoming LA alumni are held dear.  Our alumni have reached far and wide, are celebrated for their achievements, and at times, just for being "LA from Guelph."  I am very proud to be part of Guelph – few go through life being part of a "community" as special as ours.
We are truly in exciting times for LA at Guelph.  We have been making headway on many fronts including celebrating over 50 years at Guelph, increasing our visibility at the University, increasing student enrollments, the hiring of 3 new faculty and a search for a fourth, program curriculum adjustments, and perhaps the most notable being a valiant reconnection to our alumni with the creation of the LAAA.
We have some very qualified and celebrated members on this alumni association and I commend them for their wonderment and tenacity in forming Guelph's LA Alumni Association.  Interestingly the commonality of LA from Guelph is something we all share, should be proud of, and nurture.  Please join in and feel free to reconnect with us and call on me any time.
Sean Kelly, OALA, CSLA, ASLA
Director and Professor, School of Environmental Design and Rural Development
University of Guelph

Photo above:  Sean Kelly, Director of SEDRD
Welcome to LA's Newest Faculty Members
The School of Environmental Design and Rural Development was pleased to welcome Martin Holland, Nadia Amoroso and Brendan Stewart as new assistant professors. They all joined the school on July 1st, 2017. The three new landscape architecture faculty will provide leadership and support in the development and delivery of courses, studios, and field work at the graduate and undergraduate level. They will also provide supervision of master's and PhD students.
"I am absolutely confident that these three tremendous individuals will enrich the learning of our students and broaden our breadth of research," says Prof. Sean Kelly, chair of the school. "These hirings are opportune for SEDRD and the Ontario Agricultural College and works toward fortifying vibrant and desirable programs for our students."
Learn more about the three new faculty members by viewing their faculty profiles: Martin Holland, Nadia Amoroso and Brendan Stewart.
Peter Briggs (B.Sc. '96, MLA '99)
Peter founded his company Corvus Design in 2006 in Anchorage, Alaska and has grown it to be the largest Landscape Architecture firm based in the North. Peter has served as the NWTALA representative to the CSLA Board prior to serving as President of the Society. He has served as President of the Alaska Chapter of the ASLA and has been involved in the local and national levels in the US.
Jan Cervelli (MLA '81)
Jan became the 12th President of Saint Mary's College in Notre Dame, IN in 2016. A leading landscape architecture educator and administrator, Jan, FASLA, FCELA, went to Saint Mary's from the University of Arizona, where she served for eight years as Dean of the College of Architecture, Planning and Landscape Architecture. Previously she was Dean of the Clemson University College of Architecture, Arts and Humanities from 2000-2007.
Sarah Culp (MLA '06)
Sarah is the current Past President and CSLA Board Member. Previously, she has served the OALA as President, Treasurer and the associate's Council Representative. She presently holds the position of Project Manager, Parks and Facilities at the Town of Milton. Her professional experience is focused on the implementation of municipal capital projects, particularly the planning, design and construction of parks and open space. Sarah is passionate to be part of Ontario's robust and innovative Landscape Architecture community.
James MacGregor (BLA '70)
After graduating from Guelph, James completed his M.Ed. at George Washington in International Tourism. He became a leading Ecotourism and Sustainable Tourism Planner. James established his firm Ecoplan:net in 1992 and is presently based in Morocco managing tourism related projects in 40 countries throughout Africa, Asia and the Caribbean. While true to his LA roots, over the last 5 years Jim has expanded into the planning and implementation arenas of global warming adaptation and resilience strategies.
Colleen Mercer Clarke (MLA '87)
Colleen returned to the consulting sector following graduation, working in Canada and internationally on a range of large scale development and restoration projects. She completed her PhD in Interdisciplinary Studies from Dalhousie in 2010 and a post doctorate on coastal and oceans health from Memorial in 2011. Currently her focus is on advancing innovation in adaptive efforts to respond to the changing environment. Colleen chairs the CSLA Committee on Climate Adaptation as well as the IFLA Working Group on Climate.
Moura Quayle (BLA '74, PhD hon. '04)
Moura received an honorary doctorate from the University of Guelph in 2004 and the Distinguished Alumna Award from the College of Environmental Design, UC Berkeley in 2009. She currently serves as Chair of Genome Canada and of the Canadian International Resources and Development Institute. She is the founding Director pro tem of UBC's new School of Public Policy and Global Affairs and is Professor in the Sauder School of Business. Moura's interests lie in rethinking, refining and rebuilding collaborative spaces at the intersections of academia, government, business and society. Her book, 'Designed Leadership' was published by Columbia University Press in July 2017.
Karl Stensson (BLA '73)
Karl and his company Sheridan Nurseries have received so many awards during his 40 plus years of working in the industry that he would need a few helping hands to carry them all. After graduation, he did stints with the City of Toronto and North York before returning to the family business. He was named President of Sheridan Nurseries in 2009 and took over as CEO and President in 2015. From a personal perspective, Karl is most proud of winning the University of Guelph Alumni Association (UGAA) Alumnus of Honor in 2015. A statement by the UGAA read "Karl Stensson is an innovative industry leader with more than 40 years of service to the horticultural sector. He is recognized as a committed volunteer, community supporter and a mentor." The award recognizes alumni whose contributions to the community, science, education, business, industry and the arts are so significant that they bring honour to their alma mater and fellow alumni.
Robert Wright (MLA '80)
During the summer of 2017, Rob was appointed as Dean of the Faculty of Forestry by the President of the University of Toronto. Rob has served in various capacities over the last 30 years on the Daniels Faculty of Architecture, Landscape and Design at the University of Toronto. As a faculty member, Professor Wright has served as Associate Dean, Associate Dean of Research, Director of the Landscape Architecture Program, Director of the Centre for Landscape Research and Director of the Knowledge Media Institute.  He is an expert in landscape simulation, visualization and design of landscapes based on sustainable and performance practices.
 
In future LAAA issues, we plan to expand this section, so if you are interested in telling your story please email Shannon Fawns, OAC Development Manager, at fawnss@uoguelph.ca and Diana Foolen, BLA and MLA Program Assistant, at dfoolen@uoguelph.ca with a brief synopsis including your name, degree, and year.
Check back for events at a later date.
What have you been up to since graduation, we'd love to hear all about it. Please share your story with Shannon Fawns, OAC Development Manager, at fawnss@uoguelph.ca and Diana Foolen, BLA and MLA Program Assistant, at dfoolen@uoguelph.ca. And be sure to share this newsletter with your classmates and LA peers to ensure they are receiving the email. If they are not receiving this newsletter, but would like to, please have them contact records@uoguelph.ca.