Philosophy of Horror Night. Screening and Discussion, "The Nightmare Before Christmas."
Location
Philosophy Department Seminar Room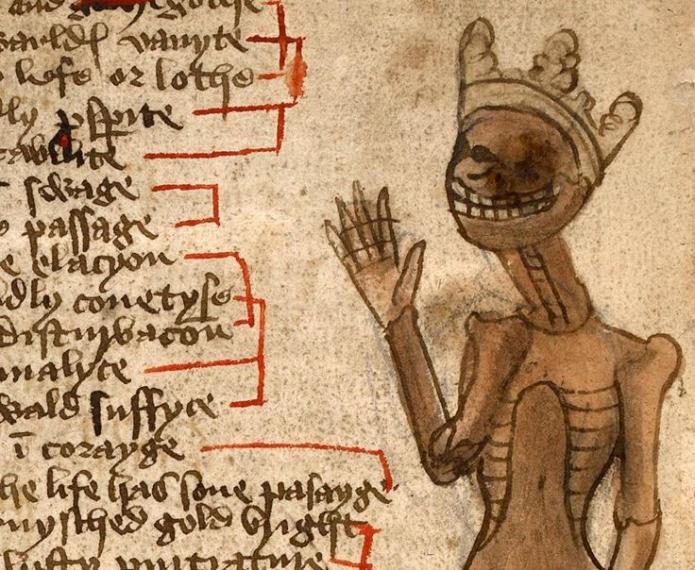 Details
Film: "The Nightmare Before Christmas" (1993)
This session is a special addition to the schedule of Philosophy in the Dark, prompted in part by the great response to our viewing of The Witch. Jack McCart, an undergraduate here at the University of Guelph whose interests in this session include medieval marginalia, morbidity and the potentially horrific dangers of transgressing the natural order.  We will gather with Jack to explore medieval marginalia, disorder and the consequence of transgression. Paired with this discussion is the film A Nightmare Before Christmas which with amusing and comically grotesque imagery tells the tale of (aptly put by Jack) a "world thrown into comical, macabre disarray".
A highlight of this session will be a reflective exercise proposed by Jack: participants will be encouraged to produce their own marginalia during the session as an entry-point into this session's discussions. Such an exercise could "introduce the questions of content, purpose, intention, and the meaning of the marginal realm - then and now." Bring your creativity, artistic implements and dark sense of humour!
---------
What is it like to do philosophy in the dark? To grasp around, with our senses limited or entirely useless in describing the horrors around us? Maybe it isn't much of a question – in fact, we might posit philosophy has already been doing exactly this for some time… Yet, there is something to be said with the efforts by some scholars in recent years to return and wrestle with the canon of horror and philosophy to engage in some critical evaluation of existing ideas about philosophical inquiry, the human subject and world.
All are welcome!
For more information, email jgrantyo@uoguelph.ca