Patricia Sheridan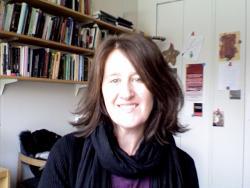 Associate Professor and Chair of the Philosophy Department
I work on thinkers and issues in the early modern period (the 17th and 18th centuries). My interests are varied, but I'm chiefly interested in early modern women philosophers, John Locke, and moral philosophy in the early modern period. I have recently been interested in the concept of virtue in  Catharine Trotter Cockburn, Anne Conway, Damaris Masham, Mary Astell,  as well as in John Locke.  I have been interested in tracing the development of the idea of virtue through the period as well as examining the role accorded to the passions, in many early modern thinkers, as forming the virtuous agent. 
"Catharine Trotter Cockburn on Virtue, Happiness, and Good Will"  for The Routledge Handbook of Women and Early Modern European Philosophy, eds. Karen Detlefsen and Lisa Shapiro. Under contract with Routledge.
"Locke and Catharine Trotter Cockburn" for The Lockean Mind, eds. Jessica Gordon-Roth and Shelley Weinberg. Under contract with Routledge.
Virtue, Affection, and the Social Good: The Moral Philosophy of Catharine Trotter Cockburn and the Bluestockings", Philosophy Compass 13.3 (2018): 1-11. DOI: 10.1111/phc3.12478
"Some Aspects of Cockburn's Metaphysics of Morality" in Early Modern Women on Metaphysics, ed. Emily Thomas. Cambridge: Cambridge University Press, 2018.
"Locke's Latitudinarian Sympathies: An exploration of sentiment in Locke's moral theory" Locke Studies, Vol. 15 (2015): 131-162.
"John Locke's Moral Philosophy" ,The Stanford Encyclopedia of Philosophy, 2012.
"Resisting the Scaffold: Self-Preservation and the Limits of Obligation in Hobbes's Leviathan", Hobbes Studies, Volume 24, no. 2 (2012): pp.137-157.
"Catharine Trotter Cockburn" The Stanford Encyclopedia of Philosophy, 2011.
John Locke: A Guide for the Perplexed. London: Continuum Publishing, 2010.
"Parental affection and self-interest: Mandeville, Hutcheson and the question of natural benevolence", History of Philosophy Quarterly Vol. 24, no. 4, (2007): 377-392.

"The Metaphysical Morality of Francis Hutcheson: A Consideration of Hutcheson's Critique of Moral Fitness Theory" Sophia, (2007) 46:: 261-273.

"Reflection, Nature and Moral Law: The Extent of Cockburn's Lockeanism in Her Defence of Mr. Locke's Essay", Hypatia

Vol. 22, no. 3 (2007): 133-151. 



"Pirates, Kings and Reasons to Act: Moral Motivation and the Role of Sanctions in Locke's Moral Theory" Canadian Journal of Philosophy, Vol. 37.1 (2007): pp.35-48. 
The Philosophical Works of Catharine Trotter Cockburn. Broadview Press, 2006.