Abhishek Chattopadhyay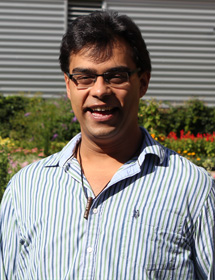 First name: Abhishek
Last Name: Chattopadhyay
Hometown: Kolkata, India
Current Residence: Guelph, Ontario
Birth Year: 1988
Affiliation: Staff
OAC Pillar: Environment
About
After Abhi Chattopadhyay completed a bachelor's degree in biochemistry at the University of Toronto, he stumbled upon a position working with a Department of Plant Agriculture with Prof. Praveen Saxeena at the University of Guelph in 2010. A year later he joined the new Gosling Research Institute for Plant Preservation (GRIPP) as a lab technician.
"All the things that are important to plant preservation; global climate change, deforestation, loss of species, it is important to get everyone engaged from every age group and demographic." – Abhishek Chattopadhyay
Abhi's lab technician role requires him to work closely with PhD students and post-doctoral fellows. His research focuses on protoplast technologies, plant growth, plant development and morphology, and propagation techniques. His research specifically looks for various chemical signals that initiate different changes in plants. Understanding the biosynthesis of these chemicals and their modes of action, helps explain how the plant perceives and responds to the world around it. This information is valuable in the creation of plant conservation strategies.
One aspect of his role that he most enjoys is troubleshooting. Finding solutions to problems and developing experimental protocol can be challenging, but when a solution is found he feels the result is extra rewarding due to the combination of logical thinking, theory and process of elimination.
Another large part of his role links to GRIPP's mission of engaging the community in the preservation of plant life.  Abhi participates in the organization of workshops, planning various GRIPP activities, and developing media packages including posters and brochures. He also manages the GRIPP website. Although not typical of a lab technician, Abhi enjoys this balance between business, science and enriched education.
He hopes to continue his work with plants in agriculture by completing a master's degree and pursuing a career that incorporates communication, science and business. Eventually he'd like to work internationally and improve his understanding of global plant agriculture.
Posted on September 18, 2014