Anne Malleau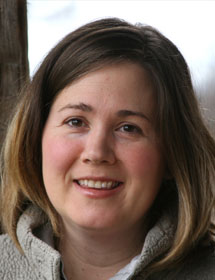 First name: Anne
Last Name: Malleau
Hometown: Whitby, Ontario
Current Residence: Port Hope, Ontario
OAC Grad Year(s): B.Sc. (Agr.) 1995, M.Sc. 1998, MBA 2002
Affiliation: Alumni
OAC Pillar: Agriculture, Food
About
Anne Malleau started her journey at the University of Guelph in the Bachelor of Science in Agriculture – Animal Science major. Three U of G degrees later, her interest in animal welfare has turned into a full time career. She works for Whole Foods Market (WFM) as the global meat co-ordinator.
"What we try to do is keep moving animal welfare forward through a dedication to continuous improvement – it's always about the animal and the people who care for and manage the animals within the related systems. It can be challenging, but like any change it is all about how we bring it to people, so our focus is always on win-win situations in our partnerships." – Anne Malleau
Like many students majoring in animal science, Anne wanted to be a veterinarian. Things changed for her during a guest lecture by Professors Ian Duncan and Tina Widowski. She was introduced to the topic of production animal behavior and welfare and decided to pursue a summer job working with Profs Duncan and Widowski. She followed up with a master's degree with Prof. Duncan, and while in grad school, Anne met her husband and fellow alumnus, Gord Speksnijder, M.Sc. 1996.
In 2002, she completed her MBA in agribusiness and in 2005 joined WFM working with their Animal Compassion Foundation. Anne selected research projects to fund and coordinated educational outreach such as producer workshops and visits. Three years later the foundation became an independent charity: Global Animal Partnership (GAP). Anne moved to the global meat team at WFM and was in charge of implementing the animal welfare program developed by GAP.
In her capacity as global meat coordinator, Anne works as the live production specialist for the company and ensures compliance with the company's animal welfare and quality standards set internally and externally. It's a big job that requires Anne to travel extensively. Anne works with WFM team members, leadership, certification companies, regulatory offices, meat marketing companies, producers and farm managers.
With 375 stores, WFM has considerable weight in pushing for advancements in production animal welfare. Sometimes Anne's job is tough as the standards the company implements can be unpopular in the industry, such as group raised veal and cage free environments, but this sort of "pushing the envelope" approach is also what makes her role so rewarding.
Posted on September 18, 2014