Archibald Leitch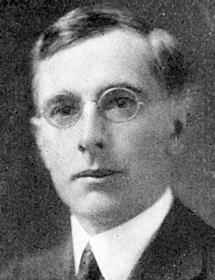 First name: Archibald
Last Name: Leitch
Hometown: Cornwall, Ontario
Birth Year: 1882
OAC Grad Year(s): BSA 1905
Date of Death: December 29, 1959
Affiliation: Alumni, Faculty
OAC Pillar: Agriculture, Communities
About
Archibald Leitch applied his aptitude for economics and management to many career ventures. Before returning to OAC as faculty, he managed several businesses and was assistant professor of Animal Husbandry and superintendent of the State Agricultural College dairy farm in Ames, Iowa. He later retired from OAC to become a tobacco farmer.
"A cut of 25 per cent. in acreage might solve the problem, provided newcomers didn't glut the market. A thousand new growers have entered tobacco in the last two years. Another such influx bringing additional land into production might produce ruin for all connected with the tobacco-growing industry in Western Ontario." – Archibald Leitch
Leitch possessed an exceptional aptitude for the application of statistics to practical problems. In 1917, when he took over the farm survey project at OAC, extension personnel called on farmers to gather information about the costs of production and marketing. Under Leitch's direction, and not without controversy, surveys were replaced with cost-accounting studies of specific commodities. He added courses in economic theory, marketing, accounting and statistics to the Bachelor of Science in Agriculture curriculum and as Short Courses. He analysed different regionally specialized mixed farming systems and distributed his results as useful bulletins. This information was especially valuable to corn growers in southwestern Ontario, as they switched to other crops when corn borers decimated their fields in the 1920s.
In 1928, Leitch used his knowledge of economics to go farming. Eventually he became "the second largest tobacco plantation owner on the entire continent", located in Elgin County. 
During the late 1920s and 1930s, the marketing of agricultural products, including tobacco, was a free-for-all. Producers had no influence in negotiating fair prices with middlemen or processors, and over-production worsened the situation. In 1934, the Canadian Natural Products Marketing Act was introduced to regulate commodity sales, and Leitch was named director of the Dominion Marketing Board. As tobacco acreage continued to expand in Ontario, he chaired the newly-formed Flue Cured Tobacco Marketing Association, established by growers to promote voluntary regulation of acreages and stabilize prices. It preceded the Ontario Flue-Cured Tobacco Growers' Marketing Board formed in 1957.
References and Further Reading
Quote reference: Leitch speaking as chairman of the Flue Cured Tobacco Marketing Association, organized in Elgin County to continue the system of voluntary regulation of tobacco regulation, reported in The Montreal Gazette, February 28, 1939.
Photo credit: Archival and Special Collections, University of Guelph Library
Elmer L. Menzie and Stewart H. Lane. Agricultural Economics at the Ontario Agricultural College University of Guelph (Guelph: Department of Agricultural Economics and Business, University of Guelph, 1986)
Alvin Finkel, Business and Social Reform in the Thirties (Toronto: James Lorimer & Company, 1979)
Posted on September 18, 2014