Arthur Churchyard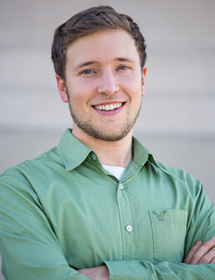 First name: Arthur
Last Name: Churchyard
Hometown: Guelph, Ontario
Current Residence: Goderich, Ontario
Birth Year: 1986
OAC Grad Year(s): M.Sc. 2011
Affiliation: Alumni
OAC Pillar: Communities, Environment
About
Arthur started his journey at the University of Guelph by pursuing a Bachelor of Arts and Sciences degree in biology and environmental sciences. He decided to pursue a Master's of Science in Rural Planning and Development when he realized the crucial role rural planning plays in addressing global sustainability challenges. He is now a planner with the County of Huron, focusing on sustainable rural development.
"Rural planning is crucial to today's global sustainability challenges. Whether you live in the city or the country, we all need clean drinking water, renewable energy, sustainable food and feedstocks, and a strong cultural understanding of the importance of close-knit relationships and meaningful livelihoods." – Arthur Churchyard
During his master's, Arthur co-founded the campus' Sustainability Week with support from his professors in the School of Environmental Design and Rural Development. He was also co-chair of the Energy Conservation Working Group, which is an official body for communication between Physical Resources staff and the university community on the topic of energy conservation.
After completing his master's research in partnership with the Ontario Ministry of Agriculture, Food and Rural Affairs, he worked as a policy researcher for Agriculture and Agri-Food Canada (AAFC). Arthur worked with AAFC during the two years leading up to the launch of AAFC's Growing Forward 2 working on developing cost-effective agri-environmental programs.
In 2012, Arthur began working with the County of Huron planning department where significant policy work is ongoing to develop sustainability in one of Canada's most productive agricultural regions. He finds the work extremely rewarding and enjoys seeing people with different perspectives develop a common vision for their future. Arthur believes that this sort of strong collaborative foundation is needed for making the key decisions that face every community.
Posted on September 18, 2014