Bonnie den Haan (née Currie)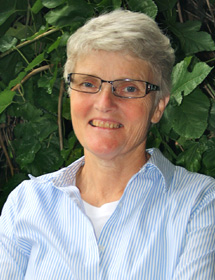 First name: Bonnie
Last Name: den Haan (née Currie)
Hometown: Loretto, Ontario
Current Residence: Loretto, Ontario
Birth Year: 1958
OAC Grad Year(s): B.Sc. (Agr.) 1981
Affiliation: Alumni
OAC Pillar: Agriculture, Food
About
Bonnie den Haan always wanted to be a dairy farmer, but with no previous experience in the dairy industry she gravitated toward studying crops and agricultural business at Guelph. Bonnie and her husband John den Haan, an OAC grad of '76A, have now been successfully farming for over 30 years.
"The faculty and fellow students at OAC helped align my passion and put my dream to farm into focus. We all shared an optimistic enthusiasm for agriculture. The knowledge and friendships I gained at OAC have taken me places I never dreamt possible." – Bonnie den Haan
Bonnie met John while in Junior Farmers and helped him with an application for a loan while she was working for Farm Credit Canada in 1982. A year later they bought his family beef farm to convert it into a dairy operation.
Bonnie and John lost their barn in a fire nine months after their wedding in 1983. Although a massive set back to any farmer, Bonnie and John took the opportunity to make proactive decisions for the future. Their resilience through this hardship made the couple stronger and after rebuilding they've never looked back. Bonnie and John have four children all involved in the agricultural industry today.
In 2012, Bonnie became aware of the growing demand for raw milk in the community. In an attempt to create a product that closely resembled the tastes and benefits of raw milk, the den Haan's set out to start their own on farm milk processing facility. In the beginning the den Haan's had complex challenges to face such as new market development and meeting rigorous health and safety regulations in a highly scrutinized environment. During this time Bonnie was in the Advanced Agricultural Leadership Program (AALP) and her classmates provided her support and encouragement to pursue the family dream. The den Haan's pioneered ahead by building an on-farm processing plant, and the family run business blossomed. Sheldon Creek Dairy products can be now found in over 200 stores across Ontario.
Posted on September 18, 2014