Bruce Johnston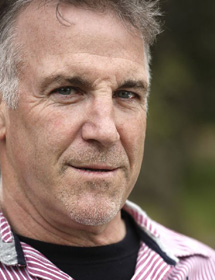 First name: Bruce
Last Name: Johnston
Hometown: Listowel, Ontario
Current Residence: Crivitz, Germany
Birth Year: 1960
OAC Grad Year(s): 1981A, Turf Managers' Short Course 2000
Affiliation: Alumni
OAC Pillar: Agriculture, Environment
About
Bruce Johnston came to the University of Guelph in 1979 for an Associate Diploma in Agriculture. He is now living in Germany with his wife, Swantje, and three children, Sommer, Brock and Corvin. His current career is in the golf and turfgrass industry, but stays true to his farm upbringing by continuing to own and show Holstein cattle.
"Germany is my home now. I love the culture and the languages, and everything is so close. I can fly to Ireland for a weekend of golf with my friends." – Bruce Johnston
After graduation, Bruce ran his own livestock feed business, but at the age of 34 he decided to make a major switch in order to see the world. He applied for a job with the Canadian International Development Agency and went to Poland for two years. While working with the Polish government to improve the quality of their dairy farms, Bruce met his first wife. He moved to Germany and began milking dairy cows with his in-laws, the Pon family.
In 2000, he and the Pon family decided to build a golf course, and Bruce knew exactly where to go to learn about the topic. He returned to Guelph for a month to take the Turf Managers' Short Course.
The golf course, WINSTONgolf is now ranked in the top 10 of 700 courses in Germany. The architecture of the course was done by committee, which hit the design head on. It is well respected by the golfing community for its quality and layout. Bruce went on to build another course by the Baltic Sea, Baltic Hills, which caters to tourists, and he feels it is also destined to be in the top rankings.
When not managing his course, he is busy in the turf equipment business. He is a dealer for Toro, the leading worldwide provider of turf equipment, and also gains import rights to bring the best North American turf equipment into Germany.
Posted on September 18, 2014