Charles Ambrose Zavitz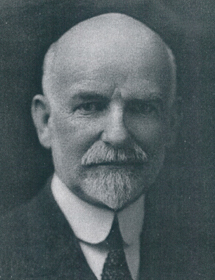 First name: Charles Ambrose
Last Name: Zavitz
Hometown: Coldstream, Ontario
Birth Year: 1863
OAC Grad Year(s): 1886A, BSA 1888
Date of Death: March 17, 1942
Affiliation: Alumni, Faculty
OAC Pillar: Agriculture, Communities
About
Charles Zavitz was a member of the first Bachelor of Science in Agriculture degree class at OAC. As a Quaker and pacifist, and acting president of OAC during World War I, he opposed military organization on campus. He also conducted no research on tobacco, although excellent Ontario malting barley varieties are descended from his early selections.
"The object of these stations is to experiment and to teach, to make a regular business of discovery for the use of farming, to promote agriculture by scientific investigation and experiment, and to diffuse as well as increase the knowledge, which improves farm practice and elevates farm life." – Charles Zavitz
As experimentalist and professor of Field Husbandry for almost 40 years, Zavitz guided field crop research at OAC. He pioneered small plots. Using existing techniques of observation, selection and repeated replication, he introduced new crop kinds and developed many varieties suitable for the regionally specialized mixed farms of Ontario. Included in this list are OAC No. 21 barley and OAC No. 211 soybeans, which were the first soybean variety to be registered in Canada, in 1925. His work on alfalfa especially benefitted Ontario dairy farmers. 
Zavitz worked in close collaboration with the Ontario Agricultural and Experimental Union, a group of OAC alumni who participated in co-operative experiments with crops and varieties, field management techniques such as planting densities, and fertilizers. During summers, he replicated these experiments at OAC, next to his research plots. During winters, he compiled results and planned the following season's work, including the preparation of hundreds of packages of seeds. As a result, participating farmers tested the latest crop science under local conditions in their home county, and their neighbours were welcome to observe and learn.
Zavitz was a charter member of both the Canadian Seed Growers' Association and the Canadian Society for Technical Agriculturists, predecessor of the Agricultural Institute of Canada. He devoted his professional life to the improvement of agriculture in Ontario by engaging farmers and scientists in research, co-operative experiments, education and extension.
References and Further Reading
Quote Reference: Fifteenth Annual Report of the Ontario Agricultural College and Experimental Farm, 1889. "Report of the Experimental Department", 122-149.
Photo credit: Archival and Special Collections, University of Guelph Library
"Charles A. Zavitz", http://www.oahf.on.ca/pdf/Zavitz.pdf
Laura Quirk. Dr. Charles Ambrose Zavitz: Agriculturalist, Experimentalist, Professor and Friend (University of Guelph, 2004)
C.A. Zavitz. Forty Years' Experiments with Grain Crops. Ontario Department of Agriculture. Ontario Agricultural College. Bulletin 332. October, 1927
H.K.C.A. Rasmussen. The History of the Agricultural Institute of Canada 1920-1980 (Ottawa: Agrican, 1980) 
Posted on September 18, 2014