Chris Copeman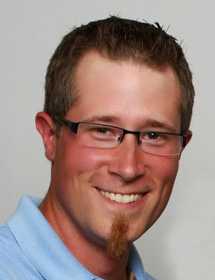 First name: Chris
Last Name: Copeman
Hometown: Sundridge, Ontario
Current Residence: Guelph, Ontario
Birth Year: 1985
OAC Grad Year(s): 2015 (expected)
Affiliation: Student
OAC Pillar: Environment
About
Chris Copeman didn't always know he wanted a career in turfgrass management. He originally set out to work in radio broadcasting; but after a summer position at a golf course, Chris realized he was destined for a career in turf. After nine years of working on a golf course, Chris decided to enroll in the Associate Diploma in Turfgrass Management (DTM) program at the University of Guelph in 2013.
"Mother Nature is cruel sometimes and what we do as turf managers allows us to bend the rules of Mother Nature to some degree. It's this principle that really drives me on my pursuit of becoming a turf manager." – Chris Copeman
Chris has had the opportunity to work alongside DTM alumni who carry the same passion for turf as that which has grown in Chris through his education and employment. Chris appreciates the passion his professors showcase and has found even some of the "seemingly less interesting" courses, such as math and arboriculture, more interesting as they were brought to life by the enthusiasm of his instructors.
Chris is currently working at Deerhurst Resort as Second Assistant Superintendent. While in this role, Chris has several responsibilities including, spraying of chemical treatments on the course, training of new employees, and the overseeing of several tasks on the course.
Recently Chris shared his experience and passion for turfgrass management in the spring issue of Green is Beautiful, a magazine published by the Ontario Golf Superintendents Association. Chris' article reflected on the long winter and his excitement to get to work and embrace the challenges that the unpredictable weather has created for him and his crew.
With nearly 10 years of experience in golf course maintenance, Chris hopes to continue his career on the course by becoming a course superintendent after graduation.
Posted on September 18, 2014