Clayton Macfie Switzer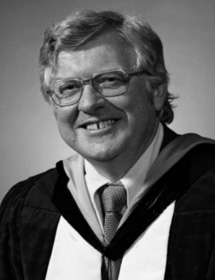 First name: Clayton Macfie
Last Name: Switzer
Hometown: Strathroy, Ontario
Current Residence: Guelph, Ontario
Birth Year: 1929
OAC Grad Year(s): BSA 1951, MSA 1953
Affiliation: Alumni, Faculty, Principal / President / Dean
OAC Pillar: Agriculture, Communities
About
Clayton Switzer made his decision to attend OAC after visiting the campus with his 4-H potato club. He completed both a bachelor's and a master's degree at OAC before attaining his PhD at Iowa State University. Clay has received the University Alumnus of Honour Award (1985), the Alumni Volunteer Award (2001), and was made an Honourary Fellow of the University (1995). 
"My love affair with the OAC started as a freshman in 1947 and has become ever stronger over the years." – Clay Switzer
Clay began his journey at OAC in 1947 as a student, and is a proud member of the OAC Class of 1951. Living in residence with his classmates greatly influenced his positive experience at the College and created a foundation for his passion for OAC. He was elected class president during his third year of study and has been the class secretary-treasurer since graduation.
In 1955, Clay accepted an offer to join the Department of Botany as a plant physiology lecturer and later went on to become a professor and chair of the department.  With experience as a department chair and as an associate dean, Clay took the role of OAC dean during a time of expansion for the College. He focused on rejuvenating the outreach and research capacities of the College and enhancing the programs to focus on broader issues such as the environment, food, global agriculture and business. This changed the face of OAC and the types of students and faculty it went on to attract.
From 1983 to 1989, Clay was the Deputy Minister of Agriculture, Food and Rural Affairs. Following this appointment he accepted a position as senior advisor to University President Brian Segal and played a key role in the establishment of the Guelph Turfgrass Institute.
Clay continues to serve on the OAC Alumni Foundation Portfolio Committee and as a member of the Guelph Turfgrass Institute Advisory Committee.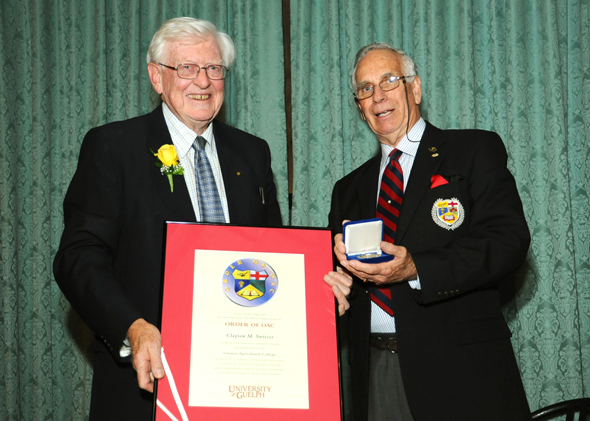 Clay Switzer at his Order of OAC induction ceremony in 2009 with OAC Alumni Foundation member, Bruce Christie.
References and Further Reading
Posted on September 18, 2014