Cora Loucks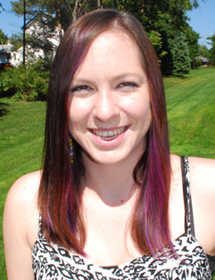 First name: Cora
Last Name: Loucks
Hometown: Waterloo, Ontario
Current Residence: Guelph, Ontario
Birth Year: 1989
OAC Grad Year(s): 2016 (expected)
Affiliation: Student
OAC Pillar: Agriculture
About
Cora Loucks completed her undergraduate degree at the University of Waterloo in plant biology. She bypassed a master's degree and, in 2012, transitioned directly into her PhD in the Department of Plant Agriculture of OAC. Through her research Cora has been able to further investigate her fascination with plants while being mindful of the environment.
"Research in agricultural sustainability, in an ever changing climate, is important for ensuring the success of the next generation of agriculturalists." – Cora Loucks
Cora completed her undergraduate learning at the University of Waterloo with co-op programming. One co-op position Cora held was at a Community Supported Agriculture (CSA) organic farm in Newfoundland. While working on the production of cabbage, lettuce and other vegetable crops, Cora became more interested in agriculture. She decided to begin a PhD that dealt with plant life but that also addressed sustainability concerns.
Cora is working with Drs. Ralph Martin and Bill Deen for her PhD research. Her focus is on cover crops, a crop grown for the protection and enrichment of the soil. Specifically her research is addressing red clover grown as an inter-crop with winter wheat in Ontario corn-soy-wheat rotations. Benefits of introducing red clover into the crop rotation are many, and include increased soil nitrogen and overall sustainability. Cora's current challenges are facing the patchy growth of red clover which can cause environmental issues such as nitrate leaching and nitrous oxide emissions. She hopes that her research will identify the different factors that contribute to the survival and uniformity of red clover as a cover crop with winter wheat.
Since joining the Department of Plant Agriculture, Cora has become a part of the departmental graduate student liaison committee as the representative for all PhD students. In this role she helps students get answers to questions they have and takes part in their orientation.
Posted on September 18, 2014