Edgar Spinney Archibald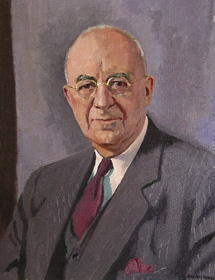 First name: Edgar Spinney
Last Name: Archibald
Hometown: Yarmouth, Nova Scotia
Birth Year: 1885
OAC Grad Year(s): BSA 1908
Date of Death: January 23, 1968
Affiliation: Alumni
OAC Pillar: Agriculture, Communities, Environment
About
Following graduation from OAC, Edgar Archibald was a lecturer at the new Nova Scotia Agricultural College in Truro from 1908-1912 and Dominion Animal Husbandryman at the Central Experimental Farm in Ottawa from 1912-1919.  During Archibald's tenure as director of the Canadian government's Experimental Farms, he expanded regionally-specialized scientific agriculture at new experimental farms in all provinces. Mount Archibald in Yukon Territory is named for him.
"If our soil is in good shape, our marketing situation well-organized, and we are prepared to produce quality products at low cost, we will be prepared for any emergency."  – Edgar Archibald
Archibald was the director of Experimental Farms between 1919 and 1950 despite numerous changes of government. During this time he strengthened the application of scientific research to agricultural problems. In the inter-war period, 1918 through 1939, which included a post-war recession and the Great Depression, the Canadian government was hard pressed to satisfy farmers' demands for stable markets and fair prices. The challenge was politicized by the geographic diversity of farm production: livestock, food and feed crops. As agriculture became more industrialized, Archibald supported producers, scientists, processors and manufacturers.
His keen interest in the North American chemurgy movement, a catchy name for chemical engineering and similar to biomaterials engineering in the twenty-first century, illustrates this support. Archibald was a charter member of the Canadian Society of Technical Agriculturalists, now the Agricultural Institute of Canada, which surveyed chemurgic research in Canada in 1941. Under his directorship, agricultural scientists co-operated with scientists at the National Research Council to search for commercially viable products manufactured from farm products and by-products, including paper, building materials, and fuel made from excess wheat straw; antibiotics extracted from soil microorganisms; synthetic rubber from wheat; edible and industrial oils, plastics, glue and flour from soybeans; and countless other value-added commodities.
Archibald assisted in the creation of the Prairie Farm Rehabilitation Act, which developed and subsidized soil conservation between 1935 and 1951. When he retired, he worked as agricultural advisor for Food and Agriculture Organization (FAO) in Ethiopia.
References and Further Reading
Quote reference: Archibald in an address to the Experimental Union annual meeting shortly after the outbreak of World war II, quoted in "Experimental Union", OAC Review vol. 52, no. 4, Jan 1940, 209.
Photo credit: "Dr. E. Archibald (1885 - 1968)", www.cahfa.com
"Edgar Spinney Archibald", http://www.thecanadianencyclopedia.ca/en/article/edgar-spinney-archibald/
T.H. Anstey. One Hundred Harvests - Research Branch, Agriculture Canada 1886-1986 (Ottawa: Agriculture Canada, 1986) (ebook available, http://epe.lac-bac.gc.ca/100/205/301/ic/cdc/agrican/pubweb/hs27_toc.asp
N.T. Gridgeman. Biological Sciences at the National Research Council of Canada: the Early Years to 1952 (Waterloo: Wilfrid Laurier University Press, 1979)
Posted on September 18, 2014