Francis Martin Redelmeier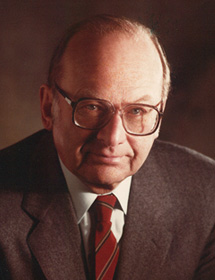 First name: Francis Martin
Last Name: Redelmeier
Hometown: Amsterdam, Holland
Birth Year: 1921
OAC Grad Year(s): 1941A, BAS 1945
Date of Death: August 5, 2001
Affiliation: Alumni
OAC Pillar: Agriculture, Communities, Food
About
Francis Redelmeier immigrated to Canada with his parents and brothers in March 1939. He had no farming experience, but he became an expert in milk marketing and a Master Breeder, using the herd name "Don Head Jerseys". He was a modest and generous man who supported many cultural, health and environmental organizations.
"Fundamental to our position is the principle that producers should receive compensation for their milk according to the value that processors extract from it. Multiple component pricing is vital to the health and stability of Ontario's dairy industry." – Francis Redelmeier
Francis Redelmeier was a dairy farmer and owner of Don Head Jerseys. He received the Jersey Canada Distinguished Service Award, the USA National All Jersey Award, and the World Jersey Cattle Bureau Distinguished Service Award.
Redelmeier was actively involved in the Ontario Channel Islands Milk Producers' Association (OCIMPA). He was also a member of the Ontario Milk Marketing Board (OMMB), created in 1965 by passage of the Milk Act. In 1969, Channel Islands breeders (Jersey and Guernsey) applied to market their high-butterfat milk outside the jurisdiction of the OMMB. They believed it deserved a premium price, but the Supreme Court of Canada denied the application. Through his work with both organizations, Redelmeier concluded that multiple component pricing, based on butterfat, protein and milk solids, could be equally advantageous to all milk producers. In 1985, as president, he represented the OCIMPA in negotiations for multiple component pricing, which became effective in Ontario in 1992, and later in other provinces. 
Redelmeier was supportive of his wife's interest in local history. In 2013, this appreciation for rural history led their family to endow the University of Guelph with the Francis and Ruth Redelmeier Professorship in Rural History. The files of Don Head Farms, held in the McLaughlin Library, complete the gift.
References and Further Reading
Quote reference: Everett Biggs, The Challenge of Achievement: The Ontario Milk Marketing Board's First 25 Years of Operation, 1965-1990 Mississauga (Ontario: The Ontario Milk Marketing Board, 1990), 178.
E.H. Clarke in collaboration with Colin L. Brethour. A History of the Toronto Milk Producers' Association 1900-1966 (Toronto: The Toronto Milk Producers' Association, 1966)
E.H. Clarke and Colin L. Brethour. 1932-1966. The Ontario Whole Milk Producers' League  (Toronto: The Ontario Whole Milk Producers' League, 1966)
John C. McMurchy, "A History of Agricultural Marketing Legislation in Ontario", http://www.omafra.gov.on.ca/english/farmproducts/factsheets/history.htm
Posted on September 18, 2014