George Elwin Raithby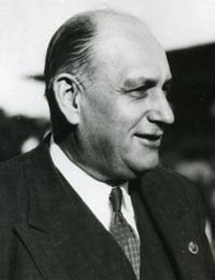 First name: George Elwin
Last Name: Raithby
Hometown: Huron County, Ontario
Birth Year: 1901
OAC Grad Year(s): BSA 1922
Date of Death: 1981
Affiliation: Alumni, Faculty
OAC Pillar: Agriculture
About
George Raithby was an expert in the management and breeding of all kinds of livestock. He worked and taught in the Department of Animal Husbandry from 1922-1965. He became chair of the department in 1954 and held the position until 1965 when he retired. He coached OAC many OAC champion livestock judging teams. He was the first recipient of the College's professor emeritus award, granted in its centennial year, 1974.
"Elwin started life early in 1900 and has been plugging ever since. Nature graced him with brain, brawn and common sense; thus an oft-heard remark is "Ask Elwin." He is quiet, good natured and a worker and interested in skating and music. The pork industry is Elwin's specialty." – OAC Yearbook, Vol. VI, 1920
In 1923, when George Raithby was just at the beginning his long career, the livestock industry in rural Ontario was bustling. Through the work of county agricultural representatives (ag reps), local Livestock Improvement Associations were active. At OAC, recent advances in understanding genetics and inheritance led to research and development of selective animal breeding as an applied science. 
Raithby introduced artificial insemination (AI) of dairy cattle to OAC. In 1942, after a series of tests on the College dairy herd, Raithby conferred with breeders to ascertain what characteristics they valued when selecting a sire. In 1953, the OAC's first AI calf was born: a Jersey named 'Frosty' in honour of the new technology for freezing semen. AI research was collaborative between OAC and OVC, and as a result, OVC held the only Ontario license for frozen semen until 1969. Raithby was also instrumental in establishing swine breeding at Arkell, where the Arkell Research Station is now located. He published numerous scholarly articles on the relationship between genetics, heritability and expression of important physical characteristics, especially in dairy cattle.
Raithby applied his expert knowledge of breeds to national and provincial livestock committees. He was a director of both the Royal Agricultural Winter Fair in Toronto and the Chicago Livestock Exposition. 
References and Further Reading
Posted on September 18, 2014