George Robert McLaughlin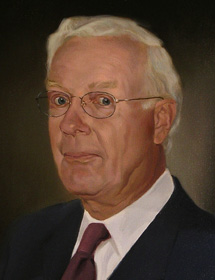 First name: George Robert
Last Name: McLaughlin
Hometown: Oshawa, Ontario
Birth Year: 1923
OAC Grad Year(s): BSA 1946
Date of Death: November 16, 2013
Affiliation: Alumni
OAC Pillar: Agriculture, Communities, Food
About
George McLaughlin was College Royal Grand Champion Showman in his graduating year. He was a sheep farmer and first chair of the Ontario Sheep Marketing Agency, and a dairy farmer and president of Holstein Canada. Following his retirement to Beaverton, he served as scoutmaster for the 1st Beaverton Troop for many years.  
"We believe that with a properly conducted dairy product advertising and promotion program we can sell more milk and milk products. We want a marketing system that will eliminate abuses and discrimination and provide fair and equitable treatment to producers." – George McLaughlin
McLaughlin was the first chair of the Ontario Milk Marketing Board (OMMB), created in 1965. He held this position until 1977. His objective remained clear: to fashion a cohesive organization of milk producers from all regions of the province, and to establish mandatory guidelines for production quotas, quality standards and marketing strategies. McLaughlin was also mandated by OMMB stakeholders to negotiate f.o.b. farm gate prices that reflected a fair return to producers. Under his determined leadership, the OMMB amalgamated the various regional associations from rural and urban milksheds in northern and southern Ontario and became effective as a marketing board that fairly represented all milk producers. He influenced Canadian dairy policy, and he participated actively in the International Dairy Federation. In recognition of these achievements, he received the H.R. MacMillan Laureate Award in 1974. 
From 1886 to 1995, due to his wide knowledge of farm practices, he chaired the Farm Debt Review Board (FDRB, Ontario), created by the Canadian government in response to recession in the early 1980s. The FDRB convened as a third party mediator between farmers and creditors, to prevent farm foreclosures by negotiating voluntary terms for payment. He was also a member of the first University of Guelph Board of Governors.
References and Further Reading
Quote reference: Everett Biggs, The challenge of Achievement: The Ontario Milk Marketing Board's First 25 Years of Operation, 1965-1990 Mississauga, Ontario: The Ontario Milk Marketing Board, 1990.  60-61.
Photo credit: "George R. McLaughlin (1923 - )", http://www.cahfa.com
George Robert McLaughlin, http://www.oahf.on.ca/pdf/McLaughlin.pdf
George. R. McLaughlin, http://www.cahfa.com/Home/Inductees/InducteeDetails/tabid/93/ID/9be4fedc-fd14-40dc-9e6d-e1745c1f006d/Default.aspx
Everett Biggs, The Challenge of Achievement: The Ontario Milk Marketing Board's First 25 Years of Operation, 1965-1990 Mississauga, Ontario: The Ontario Milk Marketing Board, 1990
David R.M. Jackson and Taylor McCaffrey, "Another mad cow? Protection against creditors under the Farm Debt Mediation Act", The Canadian Bar Association Newsletter, 2014
Posted on September 18, 2014