Gordon Frederick Townsend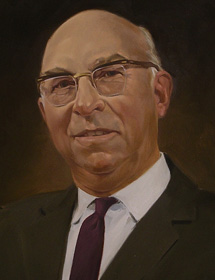 First name: Gordon Frederick
Last Name: Townsend
Hometown: Toronto, Ontario
Birth Year: 1915
OAC Grad Year(s): BSA 1938, MSA 1939
Date of Death: December 14, 1988
Affiliation: Alumni, Faculty
OAC Pillar: Agriculture, Communities, Environment, Food
About
From an early age, Gordon Townsend was interested in animals and insects. He set up his first beehive in his parents' backyard in the Humber River Valley in Toronto and put himself through OAC by selling honey. From 1942 to 1972 he was the head of Apiculture. He initiated beekeeping in northern Ontario, where bee-favourite alsike clover flourished.
"Following World War II widespread continuous corn, promoted by crop scientists, "struck the final blow" to wild honey production in southern Ontario." – Gordon F. Townsend
Townsend was hired as research associate in the Department of Apiculture in July 1939, just as honey production in Ontario reached a climax. His career coincided with the steady disappearance of white and alsike clovers and buckwheat, sources of wild honey in southern Ontario, as hedgerows disappeared and spraying of weeds increased. To offset the relentless move toward commodity crop production, he introduced the black locust tree to Ontario from Europe, as it was beneficial for nitrogen fixation as well as honey production.
Townsend also responded to the crisis with innovation and education. He was instrumental in adapting sulfa drugs to treat the bee disease called American Foulbrood during World War II. He improved honey extraction at OAC by introducing the OAC Continuous Flow Honey Pasteurizer and the OAC Pressure Strainer. He wrote countless bulletins, including "Honey Extraction on a Small Scale", "Caring for Bees in Schools" and "Beekeeping in Northern Ontario" to foster new opportunities for apiculture. 
When he developed sensitivity to bee hairs in 1972, which ended his work with bees, he took up extension work with beekeepers in Africa, Mexico, Sri Lanka and Russia, by correspondence and visits. He also established a beekeeping co-operative in Kenya for processing and marketing honey, and in exchange, Kenyan students studied at OAC. During this time he invented the top bar hive, which allowed African beekeepers to harvest honey and beeswax without disturbing the very aggressive and migratory African bees.
References and Further Reading
Posted on September 18, 2014