Gwen Paddock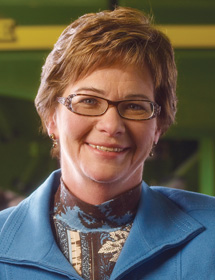 First name: Gwen
Last Name: Paddock
Hometown: Guelph, Ontario
Current Residence: Guelph, Ontario
Birth Year: 1962
OAC Grad Year(s): B.Sc. (Agr.) 1985
Affiliation: Alumni
OAC Pillar: Agriculture, Communities
About
Gwen Paddock is RBC Royal Bank's National Manager, Agriculture & Agribusiness. She came to the University of Guelph in 1981 to pursue her Bachelor of Science in Agriculture majoring in agricultural economics, and the network she built on campus has been one she's continued throughout her personal and professional life.
"I wanted to be in agriculture, but I didn't see myself as a farmer. When I got the role in agricultural finance I realized I could continue to support and be involved in the industry in a different way. It's pretty satisfying to be able to stay involved and help people achieve their goals." – Gwen Paddock
Gwen excelled at Guelph, as the course content was tailored to the career she wanted to pursue. University professors like T.K. Warley and Larry Martin left a mark on Gwen. They opened up her mind to the idea that not everyone will agree, and it is important to be in a position to substantiate your opinions and be prepared to consider the other person's view. The foundation of learning she received is used every day in informing the decisions she makes in her role at RBC.
Straight out of university the Royal Bank of Canada hired Gwen. She's been with the company since, although she's held a variety of different positions. In her current role she develops strategy for the bank across the country on how to best provide financial products and services to the agricultural industry. She sets the direction and strategy for team of 150 people in the agricultural and agri-business division.
A lot has changed in agricultural banking, but Gwen loves that one aspect has always stayed the same. Her work is still very much about people, and she'd pick a meeting across a kitchen table with farmers, over one in the office, any day.
Gwen has spent a lot of time giving back to the University of Guelph Alumni Association, the Ontario Agri-Business Association and the Rotary Club of Guelph. Today she volunteers on the fundraising committee for the Grand River Conservation Authority Foundation and on the Farm and Food Care Foundation.
Posted on September 18, 2014