James Clarence Rennie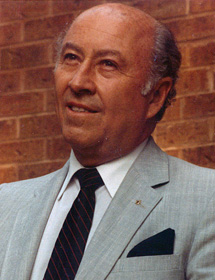 First name: James Clarence
Last Name: Rennie
Hometown: Blackwater Junction, Ontario
Current Residence: Guelph, Ontario
Birth Year: 1926
OAC Grad Year(s): BSA 1947
Date of Death: June 23, 2016
Affiliation: Alumni, Faculty
OAC Pillar: Agriculture
About
Clare Rennie introduced computer technology to OAC and helped establish genetic indexes for dairy cattle that shaped the animal genetic industry for decades. Clare also served the agriculture industry in senior administration roles, including head of the Department of Animal Husbandry, acting dean of OAC in 1972, and later as an assistant deputy minister at the Ontario Ministry of Agriculture and Food for 17 years.
"There is a great culture and spirit in OAC of wanting to learn and understand science and seek out new and better technology." – Clare Rennie
Clare's own studies at OAC began at the age of 16 in 1943, when the campus was dominated by the Royal Canadian Air Force wireless training school. Clare went on to pursue his interest in livestock genetics at Iowa State College where he did his graduate studies with world famous population geneticist, Dr. J. L. Lush.
Dr. Lush insisted his students learn to use data processing equipment, something Clare was sure he would never use again. When Clare returned to OAC as a faculty member in 1952 his technical experience gave him the opportunity to develop the first computerized data analysis laboratory on campus where he did research on genetic indexing systems for dairy cattle. His research went on to have immeasurable impact, forming the foundation of modern genetic indexing of animals, which would remain the dominant system until the recent emergence of genomics.
Following his official retirement, Clare began an exciting opportunity with the Canadian International Development Agency and Semex Alliance to help China expand and improve their dairy industry. As a result of the project, animal health and production improved tremendously in China, and milk consumption grew. Clare was honoured with the "Friend of China" Award from the People's Republic of China, which recognizes significant contributions by foreigners to economic and social progress in China. He was also inducted into the Canadian Agricultural Hall of Fame in 1991.
References and Further Reading
Updated on June 27, 2016