Jennifer Christie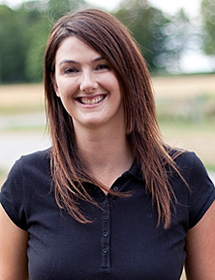 First name: Jennifer
Last Name: Christie
Hometown: Tara, Ontario
Current Residence: Kitchener, Ontario
Birth Year: 1983
OAC Grad Year(s): B.Comm. 2006
Affiliation: Alumni
OAC Pillar: Agriculture, Communities
About
Jennifer Christie grew up in the Ontario 4-H family. Her parents were heavily involved with the organization and she and her siblings participated in competitions and conferences as kids. The connections and friendships she made through 4-H, and the desire to own an "Aggie" leather jacket, guided her into a Bachelor of Commerce degree in Food and Agricultural Business at the University of Guelph.
"Nobody's going to look out for you and your career but yourself. You need to ask and volunteer for opportunities. I want to see more young women be successful and have opportunities in the agricultural industry." – Jennifer Christie
Jennifer is the territory manager for John Deere in southwestern Ontario. She provides dealers in her region with support and marketing programs to help them sell their inventory and be successful businesses within their communities. Jennifer also led communications and marketing aspects of the John Deere brand. In addition to her sales responsibilities, she has also been the company's representative on the Canadian 4-H Council for six of years. In addition to her volunteer role with 4-H, Jennifer spent four years as a Girl Guide leader in St. Catherine's.
In 2013, Jennifer was named one of Canada's 100 Most Powerful Women, in the Telus Future Leaders category, by the Women's Executive Network. The Top 100 Awards celebrates the professional achievements of strong female leaders across Canada in the private, public and not-for-profit sectors. Christie  was selected for her current efforts establishing a women's agri-business network in Southern Ontario, co-founding the Canadian Agri-Business Education Foundation and her contributions to 4-H. Jennifer is proud to be a positive role model for females in the workplace, especially in the agricultural sector. Jennifer has always been proactive with educating herself, including participating in Canadian Agri-Marketing Association (CAMA) as a student and completing an EMBA at the Ivey School of Business this past February.
Posted on September 18, 2014