Jim Atkinson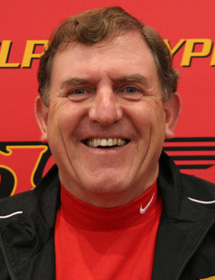 First name: Jim
Last Name: Atkinson
Hometown: Leeds, England
Current Residence: Guelph, Ontario
Birth Year: 1946
Affiliation: Faculty
OAC Pillar: Agriculture, Communities
About
Jim Atkinson has been teaching at the University of Guelph for 44 years. He started as a faculty member within the College of Biological Sciences and transitioned to the Department of Animal and Poultry Science (APS) in 1986. Since 1970, he's been an active University of Guelph community member and continues to teach as a professor emeritus.
"As a city kid growing up in the north of England the last thing I could have imagined is that I would end up as a member of the OAC 'family'. The interactions I have had with students and colleagues in the college over the past four decades have enriched my life immeasurably. You never know where your path in life will lead you..." – Jim Atkinson
Jim joined the U of G faculty as a lecturer in the nutrition department in 1970 and received tenure in 1986 when he joined APS teaching courses in animal nutrition. Jim specializes in several areas including swine, poultry, fish, domestic pets and wildlife species.
Jim's involvement and on campus contributions are remarkable. He was the College Royal advisor for 30 years, supporting one of the University's largest and most publicized annual events. He also co-chaired the campus-wide United Way campaign from 2007 to 2010. In 2004, Atkinson received the Excellence in Undergraduate Academic Advising Medallion for his outstanding contribution in advising students at the undergraduate level.
Jim is also the founder the Gryphon Women's Rugby team, establishing it in 1992.  He coached the women's team for 11 successful seasons, establishing the team as one of the most decorated female teams in Canada. He also spent 23 years coaching the Men's Rugby team. Jim was inducted to the Gryphon Athletics Hall of Fame in 1994 for his coaching contributions to the men's rugby team and the building of the women's program. The Canadian Interuniversity Sport organization created an award in Jim's honour in celebration of his contribution to developing women's sport at the university level. The annual award is given to a nationally selected Coach of the Year.
References and Further Reading
Photo credit: Gryphon Athletics
Posted on September 18, 2014