John Kenneth Galbraith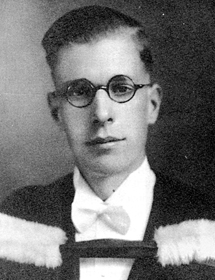 First name: John Kenneth
Last Name: Galbraith
Hometown: Iona Station, Ontario
Birth Year: 1908
OAC Grad Year(s): BSA 1931
Date of Death: April 29, 2006
Affiliation: Alumni
OAC Pillar: Agriculture, Communities
About
John Kenneth Galbraith specialized in animal husbandry at OAC, and was a member of the championship livestock judging team. He won a naming contest for The OACIS, a weekly newsletter circulated on campus, and was editor in 1930. He received the first honorary degree granted by the University of Guelph in 1965.
"No elected official should ever be asked to take responsibility for the findings of a scientist for these are often most useful when they are most uncomfortable to vested interests or ideas. … Turning the mirror around, no scientist should ever be in a position of having to consider, even subjectively, the effect of his work on the political fortunes of a superior." – John Kenneth Galbraith
After his time at OAC, Galbraith attended Berkley in California to study agricultural economics, where he hoped to understand the reasons for the continuing Depression. He earned a PhD in 1934, taught at Harvard and Princeton, and was employed by the Roosevelt administration on New Deal policies. Galbraith is described as a political economist, who interpreted the ideas of John Maynard Keynes to shape public policy under several American presidents. He was a controversial writer and speaker who advocated government investment to stimulate and maintain employment and prosperity and head off inflation. Following World War II, he argued that a widely shared European economic prosperity was more important as a counter to the Cold War than American ideological and military might.
Galbraith was a prolific writer of scholarly books and articles. He was editor of Fortune magazine when he criticized OAC in 1948 on two separate counts. He attacked the close affiliation between OAC and the Department of Agriculture because it stifled academic freedom. He faulted OAC itself for hiring its own graduates, preventing the infusion of new methods and ideas, and short-changing Ontario farmers who needed the latest scientific information. Many of his statements provoked denial and counterattack for years, but his analysis of global markets established his reputation as one of the most important economists of the twentieth century.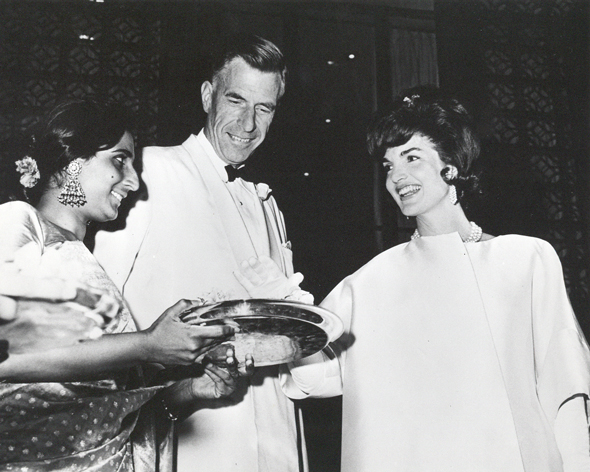 John Kenneth Galbraith with Jacqueline Kennedy in 1962 during her diplomatic tour of India, where Galbraith served as ambassador from 1961 to 1963.
References and Further Reading
Quote reference: "Defence from Politics is needed in OAC", Saturday Night 8 May 1948. Reprinted in part in Alexander M. Ross. The College on the Hill: A History of the Ontario Agricultural College, 1874-1974 (Toronto: Copp Clark, 1974), Appendix 6, 168-169
Photo credit: Archival and Special Collections, University of Guelph Library
John Kenneth Galbraith. A Life in Our Times: Memoirs (Boston: Houghton Mifflin, 1981)
John Kenneth Galbraith. The Scotch (Toronto: Macmillan, 1964)
Richard Parker. John Kenneth Galbraith: His Life, His Politics, His Economics (New York: Farrar, Straus and Giroux, 2005)
J.K. Galbraith. "Toward Economic Reality", Guelph Alumnus Magazine, November 1973, http://issuu.com/uofguelph/docs/1973novdec
"U of G Grad John Kenneth Galbraith Dies", http://www.uoguelph.ca/news/2006/04/u_of_g_grad_joh.html
"The Economist of Camelot", OAC Alumni News, Summer 2014, https://www.uoguelph.ca/oac/sites/uoguelph.ca.oac/files/summer-2014-alumni-news.pdf
Posted on September 18, 2014