Joseph Benson Reynolds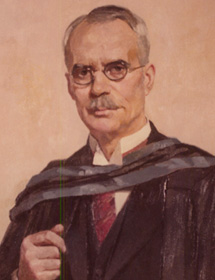 First name: Joseph Benson
Last Name: Reynolds
Hometown: Bomanville, Ontario
Birth Year: 1867
Date of Death: 1948
Affiliation: Principal / President / Dean
OAC Pillar: Agriculture, Communities
About
Joseph Reynolds was the youngest of 15 children and grew up on a family farm. He was particularly talented in English and mathematics, which led him to teaching these subjects at OAC in 1893. However it was not until after Reynolds spent five years as the president of Manitoba Agricultural College that he became the president of OAC in 1920.
"That in devotion to the cause of better agriculture, of better homes, and better citizenship in rural Ontario, the worthy apostles of the past day are succeeded by no less worthy missionaries in the present." – Joseph Reynolds
Reynolds inherited the leadership of OAC during a time of educational reform. His dedication to ensuring the college kept up with the changing times resulted in many changes for OAC.
During his presidency OAC established its first graduate programs. Reynolds believed the result of offering graduate studies would be enhanced undergraduate programs and a requirement for more highly qualified and research focused faculty. Reynolds also made changes to the agricultural programs offered in order to stay current with the changing curriculum of high school studies and implemented higher standards for admission in order to give graduates a better chance of acceptance to graduate programs.
Although at times unpopular, Reynolds made his decisions in an effort to keep up with changing academic standards and rapid scientific developments in the academic world.
Reynolds introduced soil analysis into the physics program in the late 1890's, and his research work eventually led to the provincial soil testing program. Reynolds's contribution in the physics department also included farm drainage surveys, which had a large impact on crop yields. Reynolds' innovative thinking also resulted in the discovery of new food preservation methods, and the development of a new dairy research and manufacturing facility called the Dairy Science Building, which is known as the Food Science Building today. 
References and Further Reading
Posted on September 18, 2014