Kelly Fisher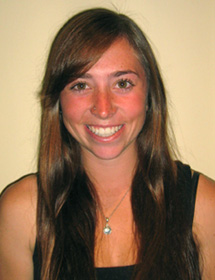 First name: Kelly
Last Name: Fisher
Hometown: Queensville, Ontario
Current Residence: Guelph, Ontario
Birth Year: 1994
OAC Grad Year(s): 2017 (expected)
Affiliation: Student
OAC Pillar: Agriculture
About
Kelly Fisher belongs to a farming legacy, including a family beef farm and Canada's largest duck farm, King Cole Ducks. Growing up surrounded by a variety of animals, Kelly quickly decided on a future that would include them. Kelly is now a Bachelor of Science student majoring in animal biology with hopes of one day attending the Ontario Veterinary College.
"I wanted to be a part of the OAC family like my grandfather, Jim Murby, who graduated from OAC in 1935. Guelph's outstanding science academics and OAC's farming community is what brought me here." – Kelly Fisher
Kelly has developed a strong knowledge of a variety of animals. She has volunteer experience working at a veterinary clinic for two summers, and spent this past summer working at the Toronto Wildlife Centre in wildlife rehabilitation. These positions have built on Kelly's childhood experiences growing up around horses and beef cattle. She has also taken part in the duck breeding program at her family's well known company, King Cole Ducks. She has taken advantage of the opportunity to learn about the hatching and raising procedures and has gained a wealth of knowledge on their genetic selection. Due to all of her experience, she feels she has built a strong foundation of information regarding animal health and care. She hopes to continue broadening her species knowledge by applying for an internship with a diary producer next summer.
Kelly enjoys learning about animal anatomy as part of the animal biology program. Understanding the building blocks of each body system is what Kelly finds especially interesting. She also enjoyed learning about the intricacies of the body in her introductory molecular biology class and is fascinated by the details of how cells function to sustain life.
Posted on September 18, 2014