Kyra Kathleen Lightburn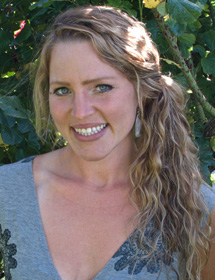 First name: Kyra Kathleen
Last Name: Lightburn
Hometown: Nanoose, British Columbia
Current Residence: Guelph, Ontario
Birth Year: 1985
OAC Grad Year(s): 2016 (expected)
Affiliation: Student
OAC Pillar: Agriculture, Environment
About
Kyra Lightburn comes from a family of devoted gardeners who encouraged her appreciation of food and flower production. A combination of these family values and global travel enlightened Kyra to food production issues. She completed a Bachelor of Arts degree at McGill University, before enrolling in OAC's Bachelor of Science in Agriculture - Organic Agriculture program in 2012.
"I am focused on how can we produce and distribute food to promote the vitality of communities worldwide in a way that will not compromise important ecosystem services such as biodiversity conservation, water, pollination and nutrient and pest regulation and carbon sequestration." – Kyra Lightburn
Kyra's passion for travel has offered her insight into food related issues around the world. In high school Kyra travelled to Wakayama, Japan, the country's mandarin orange production capital, on a one-year exchange program. Backpacking in South America furthered her knowledge of food security and sovereignty issues, food initiatives and local food movements.
Knowing her love of travel, it's no surprise that Kyra jumped at the opportunity to participate in the Plant Agriculture Field Trip course, which is better known around campus as the "Midwest Tour". The tour offers a chance to view the diversity of different American farming operations and gain knowledge on American farm policy.
Kyra enjoys participating in community groups that support sustainable production techniques, food systems and their relationship to healthy communities. She is a member of the Horticulture Club and the Mature Student Association at the University of Guelph, where she takes part in discussion panels and attends guest speaker presentations.
The fusion of Kyra's experiences has given her clarity on the societal issues she cares about most, organic and sustainable agriculture, and she hopes to pursue postgraduate studies to make an impact on society through environmentally friendly food production.
Posted on September 18, 2014