Lisa Duizer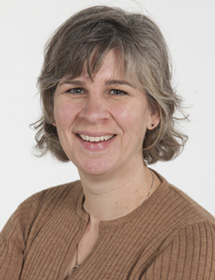 First name: Lisa
Last Name: Duizer
Hometown: Londesboro, Ontario
Current Residence: Guelph, Ontario
Birth Year: 1967
OAC Grad Year(s): M.Sc. 1992
Affiliation: Alumni, Faculty
OAC Pillar: Food
About
Lisa Duizer is a University of Guelph graduate completing both her undergraduate degree in applied human nutrition and a master's degree in food science at the University. Before moving to New Zealand to pursue her PhD at Massey University she worked as a researcher for a Guelph-based company conducting sensory evaluation.
"OAC is about agriculture and what it produces. As a continuum, we take what is initially produced and turn it into many things. We take grain and we make bread, we take milk and we make cheese." – Lisa Duizer
Lisa's passion for food and, in particular the impact of its flavour and texture on the consumer, drives her innovative research. Her current research focuses on an overlooked population: older adults, especially those who are dysphagic and have difficulties swallowing. Her goal is to create food that better resembles traditional foods in sight, smell and taste while maintaining nutrition and eliminating choking hazards. The development of more appealing foodstuffs that are delicious and nutritious has the potential to change the lives of our older adult population. Lisa works with a  group of long-term-care homes affiliated with her research partner, the Research Institute for Aging, to ensure that new food products truly meet the needs of the demographic she is targeting.
Lisa began lecturing while at Massey University and discovered her passion for teaching. As a professor, Lisa takes a special interest in her students. She dedicates herself to learning each of her student's names, which can be a difficult feat with large class sizes. She stresses interactive learning by encouraging conversation between professor and student and attending all lab sessions. She is committed to engaging with her students at both the undergraduate and graduate level.
Posted on September 18, 2014