Loong-Tak Lim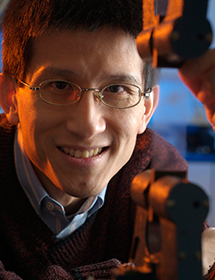 First name: Loong-Tak
Last Name: Lim
Hometown: Guelph, Ontario
Current Residence: Guelph, Ontario
Birth Year: 1969
OAC Grad Year(s): PhD 1999
Affiliation: Alumni, Faculty
OAC Pillar: Food
About
Loong-Tak Lim attended Acadia University in Wolfville, Nova Scotia for his undergraduate degree. Attracted by the prestigious reputation of the program, he completed his PhD at the University of Guelph in the Department of Food Science. His positive experience at U of G brought him back in 2005 as a faculty member.
"As a faculty member of the Department of Food Science, I am fortunate to be entrusted with the privilege to teach graduate and undergraduate students with great diversity. Through the process, I continue to learn, inspire, and grow. It is truly an honour to be part of the OAC." – Loong-Tak Lim
After receiving his doctoral degree, Loong-Tak worked with Husky Injection Molding Systems Limited. He spent six years as Husky's Development Specialist and Project Manager until returning to academia.
Loong-Tak's current research is focused on micro and nano-scaled materials for the packaging and food, such as bio-actives, nutraceuticles and antimicrobials. He also recently worked with one of society's most common beverages: coffee. Loong-Tak studied the physiochemical changes of coffee during the roasting process of the bean, as understanding the release of gasses, such as CO2, involved in this process impacts the method of packaging used.
Loong-Tak's most notable work involves fresh produce. He discovered that using an electrospinning method to produce micro- to nano-scaled fibers can be used for food and packaging applications. One invention resulting from this research is the creation of a controlled release of naturally occurring volatile compounds that extend the shelf life of fresh fruits and vegetables. Although not yet on the shelves, some of these advancements are in the process of being patented and will soon be seen in grocery stores.
References and Further Reading
Posted on September 18, 2014