Murray Andrew Gaunt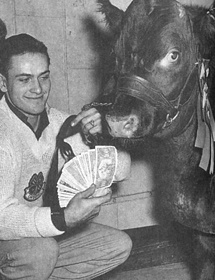 First name: Murray Andrew
Last Name: Gaunt
Hometown: West Wawanosh Township near Lucknow, Ontario
Birth Year: 1935
OAC Grad Year(s): 1956A
Date of Death: March 31, 2009
Affiliation: Alumni
OAC Pillar: Agriculture, Communities, Food
About
After his graduation from OAC, Murray Gaunt used Queen's Guineas prize money, won at the 1956 Royal Agricultural Winter Fair, to go into the turkey business. His influence however was felt across the Ontario agricultural community as from 1962 to 1981, he was elected to the Ontario Legislature to represent Huron-Bruce. After he left politics, he was farm director for CKNX Radio and TV, Wingham, for 17 years.
"(The program] gave me perspective I wouldn't otherwise have had … it was an immeasurable help for me, giving me a broader background. … [It] was natural to go into the Diploma Program as it is well recognized and has a high reputation within the agricultural community." – Murray Gaunt
While he was not a dairy farmer, Gaunt understood the problems associated with marketing milk and butter in the late 1950s and early 1960s. Dairy farmers were still embroiled in long-standing political disputes over margarine; until 1948 it was illegal to sell margarine in Canada, and sale of coloured margarine in Ontario was prohibited until 1995. The marketing of milk was equally contentious: farmers felt exploited by shippers and processors, and disparities in returns existed between different shipping areas and between fluid and industrial shippers.  In 1965, the Conservative government introduced the Milk Act which established the Milk Commission of Ontario. Gaunt, a Liberal, supported this legislation, and the creation of the Ontario Milk Marketing Board (OMMB) in 1966. In 1995, the OMMB merged with the Ontario Cream Producers' Marketing Board to form the Dairy Farmers of Ontario.
From 1986 until 2002, Gaunt chaired the Ontario Broiler Hatching Egg and Chick Commission (OBHECC), which administered the supply management system for broiler hatching eggs and chicks in Ontario. He also sat on the Ontario Beef Marketing Commission in 1984 and the Ontario Federation of Agriculture's special task force studying the effect of high interest rates on farm families, where his comprehensive knowledge of farming for a living, his leadership, and his skill at reconciling different interests were invaluable assets.
References and Further Reading
Quote reference: Guelph University News Bulletin, vol 24, no 25, 80-07-03.
Photo credit: Dan Needles. The Royal Agricultural Winter Fair: An Illustrated History (Toronto: Random House of Canada Ltd., 1997). 48.
"Murray Gaunt, 1935 -", http://www.oahf.on.ca/pdf/Gaunt.pdf
Posted on September 18, 2014