Nancy Tout (née Stevenson)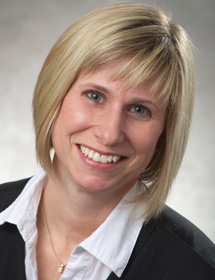 First name: Nancy
Last Name: Tout (née Stevenson)
Hometown: Ridgetown, Ontario
Current Residence: Guelph, Ontario
Birth Year: 1968
Affiliation: Staff
OAC Pillar: Agriculture, Environment
About
Nancy Tout was originally destined for a career in medical research and completed her PhD in microbiology and immunology in the College of Biological Sciences at the University of Guelph. She changed her career plan after a post-doctoral position with Prof. Chris Hall in the Department of Environmental Biology, now the School of Environmental Sciences. Nancy went on to work with Syngenta Canada Inc. and is currently the head of regulatory and biological assessment with the company.
"I am a scientist at heart and to see how science could play a central role in advancing agriculture was the opportunity Chris and the community within Environmental Biology gave me. It was important for me to make this connection." – Nancy Tout
Nancy's post-doctoral research with Prof. Chris Hall focused on using technology to put antibodies into plants in hopes of producing medicine. It was in this research that Nancy saw the impactful combination of medicine and agriculture. Through first hand application, the contributions that science could make in feeding the soon to be 9 billion people on earth became apparent to her. Nancy realized she was meant to work in advancing agriculture.
Completing her post-doc in 1999, Nancy was hired by Syngenta Canada Inc. and legacy companies. She now heads up research and development, leading a team of 60 scientists located across Canada. She works to leverage the talent of her team in discovering and developing new technology for farmers, whether that is seeds or crop protection.
Nancy is proud of the current collaborative research programs happening between Syngenta and researchers at OAC. She feels she's come full circle and enjoys that, for both groups, the focus is always on moving agriculture forward, hopefully for another 140 years.
Nancy previously sat on the University of Guelph Science Review Panel, is an Advisory Board member for Wilfrid Laurier University's Women In Science Centre and sits on the board of Life Sciences Ontario. She also volunteers her time with the Juvenile Diabetes Research Foundation.
Posted on September 18, 2014