Norval Richard Richards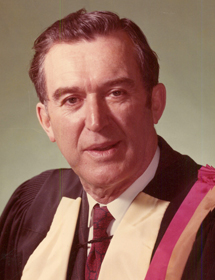 First name: Norval Richard
Last Name: Richards
Hometown: Kinlough, Ontario
Birth Year: 1916
OAC Grad Year(s): BSA 1938
Date of Death: October 19, 2008
Affiliation: Alumni, Principal / President / Dean
OAC Pillar: Agriculture, Communities, Environment
About
Before becoming the dean of OAC, N.R. "Rick" Richards came to the College in 1934 to complete his Bachelor of Science in Agriculture degree. As dean, he guided the OAC through the change from being in the Ontario Department of Agriculture to becoming a part of the University of Guelph. He retired in 1981.
"We must provide opportunities to as many University of Guelph students as possible to participate in programs of OAC. We want the whole University to see how we relate to agriculture and to society as a whole." – N.R. Richards
As a soil surveyor for Agriculture Canada from 1938 to 1951, Richards was instrumental in building a strong soil survey unit in Ontario that classified and mapped soils based on their potential for various uses.
In 1952, Richards returned to campus to become the head of the Department of Soil Science. Under his leadership a large expansion occurred in Ontario in soil conservation, soil testing, farmland use planning and the preservation of good agricultural land all of which have had a significant impact on Ontario agriculture since that time.
Richards became dean in 1962 and served in the position until 1972. He retained the identity of the College while enthusiastically embracing and supporting the formation of the University of Guelph. He provided leadership in re-organizing the College to include new academic units, new research stations and new buildings based on a long-term management plan in a period of rapid expansion. The Bachelors of Landscape Architecture, Engineering, Science in Food Science and Science in Earth Science were introduced under his leadership.
Richards strongly supported agriculture and food programs in developing countries through the campus' Centre for International Programs, the Guelph/Ghana Co-operative project and rural development outreach. These initiatives have brought recognition and honours to the College and the University.
In 1979, he was named the first chair of the Canadian Agricultural Research Council (CARC) created by Agriculture Canada and Provincial Ministries to improve co-ordination of research
References and Further Reading
Posted on September 18, 2014