Prabhat D. Desai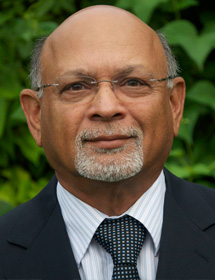 First name: Prabhat D.
Last Name: Desai
Hometown: Belgaum, India
Current Residence: Parksville, British Columbia
Birth Year: 1944
OAC Grad Year(s): PhD 1972
Affiliation: Alumni
OAC Pillar: Agriculture, Communities
About
Pete Desai grew up on his family farm in Belgaum, India, growing crops such as sugar cane, rice, maize, wheat and vegetables. He attended the University of Poona to study agriculture before coming to Canada in 1967 to complete a master's degree at the University of British Columbia. He then came to the University of Guelph to complete his PhD in the Department of Environmental Biology.
"Think big. Figure out a strategy to do the impossible, then implement it." – Pete Desai
Pete had a long and successful 27-year career at Dow Chemical, DowElanco and Dow AgroSciences. His various roles provided him with an excellent understanding of research, sales, marketing, business and consumer needs. Since his retirement in 2001, Pete has dedicated his time to sharing his knowledge with startup agricultural companies and not-for-profit organizations. His consulting company, Desai & Desai Inc., assists early stage startup companies with developing products and strategic action plans in order to align them with funding and industry partners.
One of Pete's main focuses is Mustard 21 Canada Inc. (M21). As president of M21, Pete supports Canadian mustard producers through the development of new, higher yielding mustard varieties to ensure a sustainable Canadian mustard industry. Canada is the largest exporter of condiment mustard. With no space for traditional market growth, M21 is exploring new markets to utilize mustard crops. M21 is supporting, with industry partners, the development of mustard meal as a biopesticide and mustard oil as a source of new feedstock for the emerging bio-jet and bio-diesel industry.
Since retirement, Pete has volunteered on over 15 boards, offering his expertise and knowledge as a way to give back to society. He has chosen to contribute in this way because of his deep appreciation for the opportunities the agricultural industry has given to him throughout his career.
Posted on September 18, 2014