Robert McLaughlin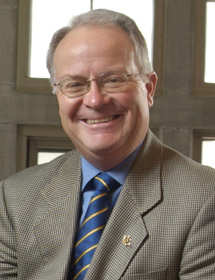 First name: Robert
Last Name: McLaughlin
Hometown: Beaverton, ON
Current Residence: Guelph, ON
Birth Year: 1947
OAC Grad Year(s): BSA 1969, PhD 1977
Affiliation: Alumni, Faculty, Principal / President / Dean
OAC Pillar: Agriculture, Communities, Food
About
Rob McLaughlin completed a PhD in plant breeding and genetics at OAC in 1977 and decided to stay on campus by accepting a position as a professor and extension coordinator in the Department of Crop Science. Rob went on to serve in the University's administration for nearly 20 years. He retired in 2009 and now owns his own consulting business, Agrifood Innovations.
"Don't let your course work get in the way of your education." - Rob McLaughlin
Rob's background in extension activities in the 1980's prepared him for his time at the Ontario Ministry of Agriculture and Food (OMAF). In 1982, he accepted the position of director the Plant Industry Branch of OMAF and in 1985 became the executive director of the Education and Research Division.
During his time as dean, Rob viewed OAC as mechanism to satisfy public interest in socially significant areas such as food and health, sustainable rural communities. Treating the college as a bridge between government policy and public enquiry, Rob urged the faculty and staff to promote the strengths of OAC's unique programs, especially related to community concerns such as environmental research, animal welfare, rural development, food safety and nutritional value.
Rob also wanted to improve the relationship between undergraduate programs and the growing corporate sector, and his focus on evolving the undergraduate curriculum placed life skills as the priority opposed to memorization of theory. Students now had more course selection choice and were assisted in their success by new mentorship programs.
After completing two terms as dean, Rob continued his service at the university. He was named the vice president of Alumni Affairs and Development in 2000, and in 2004 moved to the university's Office of Research as the associate vice president of Agrifood and Partnerships Research and then of Agrifood Strategies and served as president and chair of the Royal Agricultural Winter Fair.
He as held countless volunteer roles on agriculture, innovation and rural focused boards providing far reaching leadership to the Ontario agri-food sector. He is chair of the Ontario 4-H Foundation and member of Ministers Advisory Board on the Canadian Food Inspection Agency.
References and Further Reading
Posted on September 18, 2014