Rudy H. Brown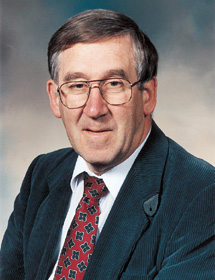 First name: Rudy H.
Last Name: Brown
Hometown: Gore Hill, Ontario
Birth Year: 1935
OAC Grad Year(s): BSA 1957, MS 1959
Date of Death: 1999
Affiliation: Alumni, Faculty
OAC Pillar: Agriculture, Communities
About
Rudy Brown attended the Western Ontario Agricultural School, later renamed the Ridgetown College of Agricultural Technology, prior to attending OAC. From 1959 to 1992, he returned to Ridgetown to the Horticulture and Biology Section, where he became head in 1965. The Rudy H. Brown Rural Development Centre is dedicated to him.
"Rudy's legacy is his work in implementing the safe use of weed control and his passion for teaching agriculture students." – Walt Brown, younger brother of Rudy Brown
Brown is well known for his work in crop protection. He was a regular contributor to Publication 75, The Ontario Guide to Weed Control, throughout his career at Ridgetown. His experience in farming led him to research the advantages of chemical weed control to working farmers. For example, in the later 1980s he collaborated on a study of the economics of herbicide use in corn and soybeans, the most valuable field crops in Ontario. The published results showed that benefit/cost ratios, although variable, clearly favoured herbicide use. He received the Excellence in Weed Science Award from the Canadian Weed Science Society, and the Meritorious Award of the Ontario Horticulture Association.
Brown was known for his extension work. He visited countless farms to advise producers on specific weed problems. In 1993, he received the T.R. Hilliard Distinguished Agricultural Extension Award. As a member of the faculty at Ridgetown College, he was a dedicated teacher who learned from his agricultural diploma students.
Throughout his life, Brown was an active member of the Leamington United Mennonite Church. He worked closely with the Canadian Foodgrains Bank for several years. In recognition of his volunteer work, he received the Westag Alumni Humanitarian Award presented by the Ridgetown College Westag Alumni Association.
References and Further Reading
Quote reference: Walt Brown, younger brother of Rudy Brown, at grand opening of Rudy H. Brown Rural Development Centre, Ridgetown Campus, November 7, 2006 (Ridgetown Campus, University of Guelph, formed in spring 2006; prior to this, Ridgetown College of Agricultural Technology).
"Brown, Rudy H. (1935-1999)", http://www.chatham-kent.ca/HeritageResources/ListofInductees/Pages/BrownRudyH.aspx
"Canadian Foodgrains Bank: A Christian Response to Hunger", http://www.foodgrainsbank.ca/
Marvin Stemeroff, Clarence J. Swanton, Allan S. Hamill and Rudy H. Brown. "Economics of Herbicide Use on Corn (Zea mays) and Soybeans (Glycine max) in Ontario", Weed Technology (October 1988), 466-472
Posted on September 18, 2014