Santiago Palacio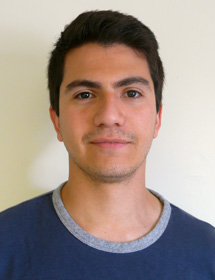 First name: Santiago
Last Name: Palacio
Hometown: London, Ontario
Current Residence: Alfred, Ontario
Birth Year: 1989
OAC Grad Year(s): 2018 (expected)
Affiliation: Student
OAC Pillar: Agriculture
About
Born in Colombia, Santiago Palacio developed a strong love for animals while spending time at his uncle's farm. After moving to Ontario in October of 2003 Santiago completed his bachelor's degree at the University of Ottawa.
"I feel like there is no better way of learning than by being physically involved in the learning procedure. Research is a great method to achieve this. I really enjoy that what we do in the field may have the potential to improve the lives of thousands or millions of animals for years to come." – Santiago Palacio
Santiago is a self-proclaimed life-time learner. When he wanted to continue his education and incorporate production animals into his graduate studies, he discovered the Organic Dairy Research Centre in Alfred, Ontario. He was excited to embark on research that provided production animals with a more natural life, while still supporting farmers with viable business options. Santiago spent one year completing courses at the Guelph campus and continued on to Campus d'Alfred to complete his research. Santiago began his PhD research at Alfred in early 2014.
Santiago's master's research focused on how providing portable shade to dairy cattle affects their behaviour, such as grazing, lying and drinking water. He also examined their body temperature, milk production and fly burden. Santiago's current research is focused on dairy farm practices. He is collecting data from farms that have been visited by a previous research study completed by Clemence Nash before and were recommended to make changes to benefit the welfare of the cows. Santiago is looking at these changes, such as adding more bedding and observing the effect on the cow cleanliness, injury scores and overall cow health. Santiago hopes to discover evidence to support the importance of welfare improvements made on dairy farms to better the quality of life for the cattle.
Santiago would like to continue working in academia upon the completion of his PhD, but has also considered working in industry to support change that will benefit the wellbeing of production animals.
Posted on September 18, 2014