Sarah Potter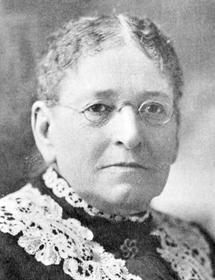 First name: Sarah
Last Name: Potter
Hometown: New York State
Birth Year: 1843
Date of Death: 1913
Affiliation: Staff
OAC Pillar: Food
About
Mrs. Stanley Potter, as she was commonly known, was the widow of an Illinois farmer who crafted almost 900 models of wax fruit and vegetables for OAC. During her time with OAC, she lived and worked in a room in the Horticulture Department. In 1905, she retired to California to live with her son.
"These models are done with such wonderful skill that it is often impossible to distinguish the model from the natural specimen from which it is made. Many a time our visitors have been deceived in thinking that the whole collection was made up of natural fruits preserved in some way from decay." – H.L. Hutt, Professor of Horticulture
For six years, Potter earned her living by making lifelike wax models of fruit, vegetables and mushrooms at OAC to be used as teaching aids for classroom study. At this time, wax flowers were popular ornaments for the home. H.L. Hutt, head of the Horticulture Department, observed her demonstration at the Columbian Exposition at Chicago in 1893, and he finally persuaded her to come to OAC in 1899 at age 60. She created realistic models of native Canadian fruits, some vegetables and mushrooms. She also made a set of wax root crops for the Department of Field Husbandry.
Her technique was ingenious and painstaking. She began by making plaster casts of original specimens, and duplicated them with hot wax. She coloured the models with melted wax or paint. She applied oily black dust from decayed Brazil nuts to represent soil clinging to vegetables, and she beat the surface of peaches with a toothbrush when the wax was still soft to make fuzzy down. For stems and root hairs, she used wires or fibres dipped in hot wax.
Potter created lifelike models, which helped students identify and study the produce of Ontario in the 1910s and 1920s, when horticulture was emerging as an economically important regional commodity.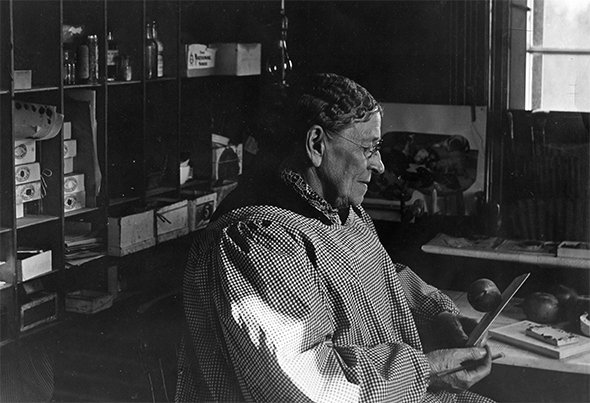 References and Further Reading
Quote reference: H.L. Hutt, Professor of Horticulture. OAC Annual Report, 1903, 95.
Photo credit: Archival and Special Collections, University of Guelph Library
A.S. Hill, OAC '31. "Models of Fruit. The Monumental Work of Mrs. Stanley Potter" in OAC Review (November 1929): 128, 172.
Posted on September 18, 2014