Stephen A. Marshall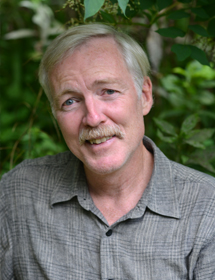 First name: Stephen A.
Last Name: Marshall
Hometown: Fergus, Ontario
Current Residence: Fergus, Ontario
Birth Year: 1954
OAC Grad Year(s): B.Sc. (Agr.) 1977, PhD 1982
Affiliation: Alumni, Faculty
OAC Pillar: Environment
About
Steve Marshall did not always anticipate an agricultural-oriented career, even though his father, Robert Marshall, was an OAC agricultural economics professor. His early interests lay instead in insect taxonomy and biodiversity studies, which he pursued further for a Master's degree at Carleton and his PhD at U of G. Those interests later came to mesh well with an OAC career, first in the Department of Environmental Biology then in the School of Environmental Sciences.
"I have been an active user and developer of the insect collection since the 1970s. I have contributed tens of thousands of specimens collected over the past 35 years, and I have always been involved with identifying and organizing the specimens in the collection. It serves as a major resource for work with endangered species, changing distributions, biodiversity, systematics and identification." – Steve Marshall
Steve, the current director of the University of Guelph Insect Collection, began curating the collection during his bachelor's degree. In 1982, he became director of the collection and he has since expanded the collection from a few hundred thousand to nearly 3 million specimens. The collection is widely used as a resource and research tool in Canada and internationally. Many of the specimens were collected by students and volunteers, but the vitality and success of the collection is indisputably attributable to Steve's more than 30 years of dedication. 
As an insect taxonomist a great deal of Steve's work uses insect specimens as a basis for "revisions", which aggregate all the information on a group of species such as a genus, pulling it together with new data and analyses to clarify and summarize the relationships, distribution, identification and biology of the group. Through his research he has gained a wealth of knowledge on biodiversity, and shares his findings through a large undergraduate course called Biology and Diversity of Insects. The text for this class is one of the several books he's written: "Insects, Their Natural History and Diversity." His most recent book, "Flies: The natural history and diversity of Diptera" is the authoritative overview of the order Diptera, one of the largest and most important groups of insects.
References and Further Reading
Posted on September 18, 2014