Stewart Hilts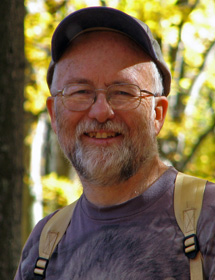 First name: Stewart
Last Name: Hilts
Hometown: Woodstock, Ontario
Current Residence: Hutchinson's Corners, Ontario
Birth Year: 1948
Affiliation: Faculty
OAC Pillar: Agriculture, Communities, Environment
About
Stewart Hilts' career at the University of Guelph combined the physical sciences of conservation with the social science of rural planning to serve Ontario and Canada. His research and extension work helped pioneer current models for conservation and land protection in Ontario and much of Eastern Canada.
"The emphasis on research and extension in OAC suited the work I liked to do and was a good context to build a career in. My research was outreach just as much as it was research." – Stewart Hilts
Stewart first joined the University of Guelph in 1979 as faculty in the Department of Land Resource Science as a social scientist, but his work at the university often involved determining how best to apply conservation science. Much of his career was devoted to developing programs to encourage private landowners in rural southern Ontario to conserve natural areas such as woodlands and wetlands on their properties.
Stewart's work aided in the founding of the non-profit organization Ontario Farmland Trust based at the University, and he served as chair for the organization from 2003 to 2011. Stewart also served in many administrative positions throughout his career including the role of chair of Land and Resource Science, and on the University of Guelph Board of Governors.
Stewart enjoyed teaching both undergraduate and graduate students, and his favourite courses were those that involved field work, including days at the Arboretum or week long field courses that visited Manitoulin Island or Beaver Valley. Stewart continues to teach a distance education course on the landscapes of Scotland. In 2011, Stewart was awarded the Medal of Merit, which recognizes faculty who have made outstanding contributions to the University resulting in substantial improvement to the academic life and character of the University.
Stewart continues to work on conservation projects following his retirement, and is actively involved with the Bruce Trail Conservancy, leading walks to teach groups about conservation, overseeing volunteer work and doing upkeep of the trail. Stewart has also explored his interests in photography and writing, and uses both to maintain a blog about gardening, wildlife and conservation in the Beaver Valley where he and his wife now live.
References and Further Reading
Posted on September 18, 2014