Sue-Ann Staff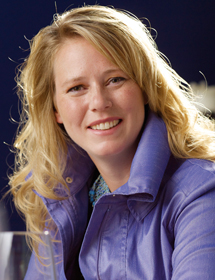 First name: Sue-Ann
Last Name: Staff
Hometown: Jordan, Ontario
Current Residence: Jordan, Ontario
OAC Grad Year(s): B.Sc. (Agr.) 1994
Affiliation: Alumni
OAC Pillar: Agriculture, Food
About
It is no surprise that at the age of 16, Sue-Ann Staff became interested in oenology, the study of wine. She comes from a long family line of viticulture spanning five generations in the Niagara Region. In 1990, she began her Bachelor of Science in Agriculture - Honours Horticulture and Biotechnology at OAC. She now owns her own internationally recognized winery.
"Wine, food, friends and family. These are the pillars of a wonderful life." – Sue-Ann Staff
While attending OAC, Sue-Ann appreciated the depth and scope of not only the opportunities the educational component provided but also the great network of classmates and professors she was able to attain. Other social and extracurricular activities like College Royal and varsity sport made the experience complete. Acquiring the foundation of education at OAC has helped Sue-Ann embrace a successful and meaningful life in Canada's grape and wine community.
After graduation from OAC, Sue-Ann pursued a graduate degree in oenology at the University of Adelaide in South Australia. She graduated in 1996 and continued to seek international experience and training, through visiting and working in France, Germany, Andorra, Australia and South Africa.
Sue-Ann began making wine back home in Niagara in 1996, and in 2002 at the Ontario Wine Awards she was named "Winemaker of the Year". Sue-Ann was the first female, and youngest ever, to receive this distinction. Since then, her wines have won 550 awards at national and international wine competitions.
Sue-Ann opened her own winery, Sue-Ann Staff Estate Winery, on her family's 200-year-old estate in Jordan, Ontario in September 2009. It is the ultimate assemblage blending 115 years of grape growing experience including two Grape King titles with Sue-Ann's 16 years of quality winemaking.  Wines range from zippy Riesling to opulent Cabernets to seductive Icewine.
She also works as Consulting Winemaster to John Howard's "megalomaniac" winery located in Vineland, Ontario and liaison to its sister property Chateau la Confession in St. Emilion Bordeaux, France. Sue-Ann also teaches at Niagara College in the Post Graduate Wine Business Management Program.
Posted on September 18, 2014