Sylvanus Thompson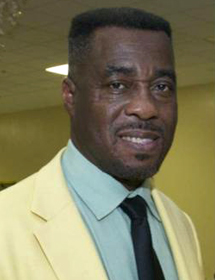 First name: Sylvanus
Last Name: Thompson
Hometown: Montego Bay, Jamaica
Current Residence: Toronto, Ontario
OAC Grad Year(s): M.Sc. 2000
Affiliation: Alumni
OAC Pillar: Food
About
Sylvanus Thomspon has an abundance of experience in public health. He sought out OAC to complete a Master's in Food Safety and Quality Assurance (FSQA) due to the program's strong reputation. His graduate degree from the Department of Food Science earned him a position with Toronto Public Health.
"OAC gave me the ability to apply research and use research evidence in decision making. I gained the knowledge and expertise I needed in food safety and quality assurance." – Sylvanus Thompson
Sylvanus started with Toronto Public Health in 2000 in a temporary position as a health inspector. After a short period of time he was appointed as the acting quality assurance manager in 2001, and in 2012 Sylvanus was promoted to Associate Director of Healthy Environments. Sylvanus helped develop the Healthy Environments Quality assurance program in 2001 and the creation of the Toronto Public Health Performance Framework in 2009. In 2003, he played a leadership role in the development and implementation of the Toronto Food Inspection and Disclosure System (DineSafe) program. This "red-yellow-green" restaurant inspection disclosure program has since been internationally recognized for unsurpassed achievement in providing outstanding food protection.
Sylvanus attributes his education at OAC to be a key factor in his professional success, especially in the area of food safety. He entered the FSQA graduate program as a new immigrant to Canada although holding several other diplomas and certificates in public and animal health, as well as accreditation in food safety.
Sylvanus exudes nothing but positivity when speaking about his experience in the Department of Food Science. He has recommended the FSQA program to several people based on his high regard for the professors, lab work and the support he received from the community as a whole.
Posted on September 18, 2014