Thorald K. Warley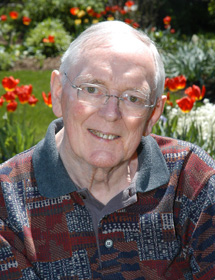 First name: Thorald K.
Last Name: Warley
Hometown: Driffield, Yorkshire, England
Current Residence: Guelph, Ontario
Birth Year: 1930
Date of Death: September 10, 2018
Affiliation: Faculty
OAC Pillar: Agriculture, Communities, Food
About
Thorald Warley (called "Sandy" for his red hair) arrived at OAC in 1970 from the University of Nottingham and quickly became notorious for his controversial statements on marketing boards and trade protection. After retirement, Sandy remained actively involved with OAC by serving on the Boards of Directors of the OAC and University of Guelph Alumni Associations for 21 years.
"We were more than colleagues, we were friends. I loved the sense of belonging, and the feeling that we were moving toward a future we would all build together." – Sandy Warley
For 20 years, Sandy was a part of the University of Nottingham where he earned his degrees in horticulture and agricultural economics, and was a faculty member. In 1969, Sandy arrived at OAC as a visiting professor and was delighted by the excellence of the programs and the deeply rooted sense of history and family within the college. This influenced his decision to accept an invitation to be a chairmanship candidate of the Department of Agricultural Economics, which he took up in 1970. As chair he facilitated the department's growth with new hires, a PhD program, more teaching in business studies, and the introduction of trade research.
Sandy quickly made waves by publicly speaking out against the Ontario Ministry of Agriculture's promotion of supply management and trade protection. Although he was acting in the British tradition of universities being a "loyal intellectual opposition", this type of vocal challenge of government was new to OAC where the faculty had been, until recently, public servants. The resulting turmoil gave the University its first public test of independence and shaped the rest of Sandy's career. He did not participate in government funded research, but continued his work on agricultural policy issues and international and regional trade arrangements through funding sourced from think tanks and international agencies.
Sandy's strong belief in giving back led to his long time involvement in alumni affairs with the OAC Alumni Association and University of Guelph Alumni Association. His contributions attracted many honours including an Honorary Doctor of Laws degree from Guelph and a Queen Elizabeth II Diamond Jubilee Medal.  
Updated on September 11, 2018