Tom Sawyer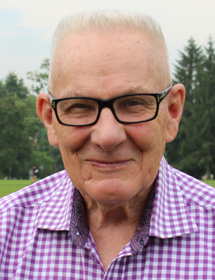 First name: Tom
Last Name: Sawyer
Hometown: Kirkton, Ontario
Current Residence: Carlisle, Ontario
Birth Year: 1936
OAC Grad Year(s): 1959A, BSA 1964
Affiliation: Alumni
OAC Pillar: Agriculture, Communities
About
Tom Sawyer has an affection for OAC that began even before his time as a student. As a child his father grew several acres of crops from OAC seeds and received help from agricultural representatives. OAC had always been around his kitchen table, and was an easy choice for his education.
"I have a mortgage at OAC. The Ontario Agricultural College has been so good to me over all these years; I don't know if I will ever be able to repay the debt." – Tom Sawyer
As a student, Tom participated in the campus agronomy club and competed on three varsity teams: football, hockey and rugger. As an alumnus he has been active with both the OAC Alumni Association and Alumni Foundation and acted as president for the Association in 1976 and the Foundation in 1990.
While on campus, Tom met Nancy West, a Macdonald Institute graduate in the Class of 1962. They married in 1964, celebrating their 50th wedding anniversary this year. He attributes his success to his wife who kept the family anchored at home and offered the utmost support throughout his career.
While at OAC, Tom was encouraged by a crop science professor to apply for a summer position as a student. In this position, Tom worked with the herbicide atrazine, one of the first of its generation. He travelled to farmers that had product complaints to investigate the crops and troubleshoot for solutions. This experience eventually earned him a full time position with Fisons Chemical Limited and later Ciba-Geigy Limited, where he had a long and established career.
Tom is always keen to participate in fundraising opportunities and scholarships to give back to the University community. One example of this is his role chairing the Al Singleton Hockey Scholarship. Due to Tom's leadership and dedication the scholarship endowment has reached over $150,000.
Posted on September 18, 2014