William Henry Day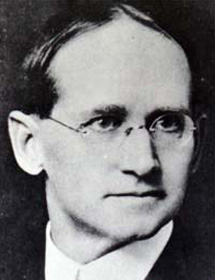 First name: William Henry
Last Name: Day
Hometown: Pole's Corners (now Kawartha Lakes), Ontario
Birth Year: 1870
Date of Death: July 5, 1938
Affiliation: Faculty
OAC Pillar: Agriculture, Environment
About
In 1903, W.H. Day graduated from the University of Toronto as Gold Medallist in Physics and Mathematics. He was "blunt, aggressive and well-aware of his abilities", and focused on practical research at OAC: lightning damage to farm buildings and soil drainage, which was his passion. From 1903 to 1919, Day was a demonstrator in the Department of Physics, and from 1906-1919 acted as the department head.
"Six years experience in growing crops on the now reclaimed land has demonstrated that the half has not been told. The three predominant crops so far are carrots, head lettuce and celery and in my opinion the Holland Marsh is destined to become the chief centre in Ontario if not in Canada for these crops." – W.H. Day
In 1904, the Departments of Field Husbandry, Animal Husbandry and Physics were created from the original Agriculture Department. Physics was responsible for farm buildings and soils, including tillage and underdrainage, a significant challenge in many counties. Day initiated an underdrainage extension program in co-operation with the Department of Agriculture, and carried out comprehensive research on soil drainage throughout the province. Between 1906 and 1917, he hired summer assistants to survey fields and prepare detailed drainage plans for individual farmers, who paid all other expenses. When OAC purchased a ditcher in 1912, Day established experimental plots to demonstrate the added value of draining to yields per acre.
Day's early identification of the Holland Marsh as prime land for growing vegetables, following a question from a Bradford, Ontario grocer in 1904, led to the Holland Marsh Drainage Scheme. He took two approaches to the Marsh's potential. In collaboration with soil chemists, he determined that the marsh muck was extremely fertile; thus began specialized agriculture in that area, and the Muck Crops Research Station was established in 1946. Besides his professional work, he ran a ditching business and purchased land there. These activities were seen as conflict of interest by President Creelman, who removed the drainage program from Day's jurisdiction in 1916. Unhappy with this interference, he left OAC in 1919 to work for Shinn Manufacturing of Guelph, manufacturers of lightning rods, and then to farm.
References and Further Reading
Photo credit: "Historical Plaque: William Henry Day 1870-1938"
James L. Hunt. Wisdom from the Past: Physics at the Ontario Agricultural College 1877-1964 (University of Guelph, 1989)
J.L. Hunt, "William Henry Day, 1870-1938", http://www.engineeringhistory.on.ca/index.php?id=16
Posted on September 18, 2014