William Johnston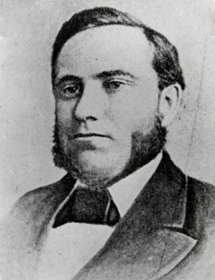 First name: William
Last Name: Johnston
Hometown: Lockerbie, Scotland
Birth Year: 1848
Date of Death: January 7, 1885
Affiliation: Principal / President / Dean, Staff
OAC Pillar: Communities
About
William Johnston was born in Scotland, but immigrated to Canada at the young age of three. He attended Victoria College in Toronto to achieve a diploma and soon after held a teaching position in Northumberland County at the age 15. Johnston returned to Scotland due to illness and attended Edinburgh University while at home, starting his degree. He then finished his degree at the University of Toronto when he returned to Canada in 1872.
"[The college existed] to increase the agricultural products of the country and to raise the social standard of the farm community by placing here and there over the land a greater number of intelligent agriculturalists, to act as leaven upon the mass." - William Johnston
Johnston began his career at the Ontario School of Agriculture in 1874 as rector. He was a tireless worker, which was required for the position he would eventually take on. The school had a shaky start within its first few months of operation, when the first principal, Henry McCandless, was forced to resign. At the age of only 26, William Johnston was appointed as the new principal of the Ontario School of Agriculture.
Johnston had exceptional administrative skills and discipline, which aided him in restoring order to the chaos of the school. He did not have a depth of knowledge in agriculture, but his commitment and hard work made up for his lack of experience. In addition to answering letters, balancing the budget, serving as the dean of residence and the registrar, Johnston lectured in subjects including English, botany and zoology.
Johnston had vision and foresight for the Ontario School of Agriculture, and it was Johnston's recommendation that the school be affiliated with the University of Toronto; an integral role in the growth and establishment of the future Ontario Agricultural College. Without Johnston's organizational skills and extreme dedication, the Ontario School of Agriculture may have ended before it had even really begun.
References and Further Reading
Quote reference: Alexander M. Ross. The College on the Hill: A History of the Ontario Agricultural College, 1874-1974 (Toronto: Copp Clark, 1974), 29.
Photo credit: Archival and Special Collections, University of Guelph Library
Alexander M. Ross. The College on the Hill: A History of the Ontario Agricultural College, 1874-1974 (Toronto: Copp Clark, 1974)
"Historical Plaque: William Johnston 1848-1885", https://www.uoguelph.ca/historicaltour/pl_johnston.html?height=400&width=570
Posted on September 18, 2014